John Lott Newsletter -> Interview with Sean Hannity
John Lott Newsletter -> Interview with Sean Hannity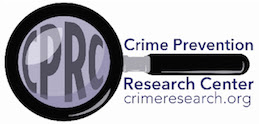 Dear John:
It has been a difficult week, but hopefully, we have made some difference in the debate.  In the twenty years that I have discussed guns in the media, I don't believe that I have seen such media bias.  CNN, MSNBC, and programs such as Meet the Press have panels where everyone agrees with each other on the issue of guns.  News articles make no attempt at balance, and their outlets refuse to publish letters even when it is clear that the reporters had made mistakes.
Still, the appearance on Sean Hannity's television show this past Wednesday was particularly valuable.  Working with Hannity's producers at Fox News we were able to put together an information-packed few minute presentation about the impact that gun bans and right-to-carry laws have on crime rates.  The appearance on Fox Business also went very well.  One of the interviews on Turkish television was particularly amusing.  After making several false claims about crime rates in the UK and other places, the interviewer was forced to say "Statistics aside…" before going on with a question about emotions.  There were a couple television interviews that I did with the BBC, but I wasn't able to get copies of them.
I did two interviews this past week on the Sean Hannity Radio show.  His show has over 12.5 million listeners, and both interviews went very well.  They gave people a perspective on a range of issues from how the US compares to other countries in terms of mass public shootings, the mental health debate over these killers, and the debate over new gun control laws.  We did other interviews on other national radio shows such as Larry Elder, Laura Ingraham, Jim Bohannon, Sandy Rios, and Coast-to-Coast AM.  I haven't had a chance to post all of our interviews yet (such as the Lars Larson show), but hopefully, I will get to those soon.
Over the last two-and-a-half weeks we have published 8 op-ed pieces.  l think that some of them turned out particularly well.  The one at Fox News explained that the US is relatively safe compared to most of the world, even Europe, in terms of mass public shootings. Other pieces that we had at National Review and The Hill have responded to claims in the New York Times about what gun control laws we should adopt.  An op-ed that we had in the Detroit News discussed new research that we had done on how law-abiding concealed handgun permit holders are in terms of driving (our research also got picked up by Fox News in a news article).
At least before the Las Vegas massacre, we also get some new promising research done.  But I will save that for a future email.
The Kindle version of my book, "The War on Guns," is still on temporary sale at Amazon for just $1.99!
[amazon_link asins='B01HH5HN8W' template='ProductLink' store='hoaxandchange-20′ marketplace='US' link_id='759888ce-ae8a-11e7-b246-c1590f8deaaa']
For information on activities at the Crime Prevention Research Center, here is a link to our "info deck."  Please view in full-screen mode and scroll using the arrow buttons at the bottom of the screen.
Links
Op-eds
Fox News: Gun control in Europe is almost total. It hasn't stopped mass shooting attacks like Las Vegas
At National Review: "The Gun-Ban Fetish: Banning guns invariably leads to an increase in the murder rate"
In The Hill: "Background checks do not diminish crime rates, but can increase them"
In the Detroit News: "Handgun permit holders boost safety"
At The Hill newspaper: "The ugly truth behind Obama's war on the Second Amendment"
CPRC in the Dallas Morning News: "It's already too late for gun control to work"
In The Hill: "Democrats should embrace FBI background check for voters and gun purchasers alike"
At Fox News: "Trump effect hits the NFL — Teams with more protesters were more likely to lose"
Television Interviews
On Hannity's TV show on Fox News, Evidence that More Guns, Less Crime

On Fox Business to discuss the gun control laws being raised after the Las Vegas Attack
On Bret Baier's Special Report on Fox News to discuss whether permitted concealed handguns make people safer
Debate: Turkish World Television on the influence of the NRA and also gun control's impact on mass public shootings
On Turkish World Television to discuss Mass Public Shootings around the world
On Canada's The Rebel: Another concealed carry hero stops mass public shooter
Radio Interviews
On the Sean Hannity Radio Show to discuss the push for new gun control regulations, debate over mental health
On the Sean Hannity Radio Show responding to the false claims in the gun control debate
On the Jim Bohannon Show to discuss the Las Vegas Shooting
On the Larry Elder Show to discuss how mass public shootings occur at much higher rates outside the US
On the Larry Elder Radio Show to discuss the Violence Policy Center's claims about women and guns
On the Laura Ingraham Show to discuss the Las Vegas Massacre
On the Sandy Rios Show to discuss the Las Vegas Shooting and the push for universal background checks
On Coast-to-Coast AM about the Las Vegas massacre and aftermath
On DC's WMAL regarding the initial discussions about gun control after the Las Vegas attack
On Radio America to discuss the different gun controls laws that are being raised this week
On the Vicki McKenna Show to discuss the Las Vegas Shooting
On Canada's Giant CFRA to discuss the Las Vegas Shooting and the push for more gun control
On the giant WWL to discuss President Trump relaxing Obama's restrictions on gun imports and exports
Mentions of the CPRC in the Media
Fox News on our research: "Concealed carry permit holders less reckless behind wheel than other drivers, study says"
Wall Street Journal cites CPRC research
Replies to attacks in the Media
Letter responding to Seattle Times' article by Julie Wise's piece "Trump's election commission long on rhetoric, short on integrity"
Letter responding to Philip Bump's "Let's see what happens if we take the unserious background-checks-for-voters idea seriously"
Replying to Christopher Ingraham's attacks in the Wash Post on CPRC's testimony to Commission on Election Integrity
Letter responding to attacks in the Los Angeles Times, Discussing President's Election Integrity Commission
Other News
Concealed handgun permit holders much less likely to drive recklessly than other drivers
Violence Policy Center keeps using Justifiable Homicide data to make false claims about defensive gun use
NFL Teams that had the most protesters preformed poorly on Sunda
John R. Lott, Jr.