The Skimm – > A federal judge is temporarily putting DACA back in play.
The Skimm – > A federal judge is temporarily putting DACA back in play.
Skimm'd with tissues and the Pearsons
  QUOTE OF THE DAY  
"You cannot wear big glasses anymore" – Kanye, giving Kim very important fashion advice in an email.
The Story
A federal judge is temporarily putting DACA back in play.
What are you talking about?
Last year, the Trump administration said it was getting rid of DACA – the program that protects hundreds of thousands of people brought to the US illegally as kids from being deported. It expires in March unless Congress can come up with a replacement. Multiple states, orgs, and individuals sued to keep DACA in place.
And now?
This judge ruled that DACA stays put while lawsuits make their way through the courts. It means the gov has to start accepting DACA renewal applications again.
theSkimm
No word from President Trump yet. But the decision comes the same day he held a bipartisan meeting on immigration reform…and suggested he's in favor of protecting DACA.
What people are watching…
Southern California. Yesterday, heavy rain there led to mudslides that killed at least 13 people. This is the same area that was hit by the largest wildfire in the state's history last month. The ground was burned so badly that it can't absorb as much water. This was the first heavy rain in months. The mudslides destroyed homes and forced thousands of people to evacuate. More mudslides could be on the way. Meanwhile, a really strong earthquakehit off the coast of Honduras last night. It set off warnings of a tsunami in places all over Central America that were later canceled. Tsunami crisis, averted.
---
Yesterday, we also got a peak at testimony from a Fusion GPS co-founder. Fusion GPS: a research firm hired to look into President Trump during the campaign. And made ex-British spy – Christopher Steele – the point on the research. You know Steele for writing the reports in THAT 'dossier.' His memos allege that the Trump campaign colluded with the Russian government to tip the election. And he went to the FBI with some concerns before the US went to the polls. Last year, the firm's co-founder testified to a Senate committee in a closed door meeting. And Fusion GPS has been calling for that testimony to be made public ever since. Now, it is. In it, the firm's co-founder says Steele made a pit stop at the FBI because he believed Trump was at risk of blackmail. And that Steele said the FBI took him seriously because they already had a source…inside the Trump campaign.
---
What to say when the food's ready…
Time's up. James Franco is feeling it now, too. The New York Times canceled a talk with the actor after several people, including actress Violet Paley and Ally Sheedy from "The Breakfast Club," either accused him of sexual misconduct or insinuated he was part of the problem. Franco denied doing anything wrong last night on "The Late Show with Stephen Colbert." But the talk is still canceled.
---
Not for us. Yesterday, federal judges threw out North Carolina's congressional map for partisan gerrymandering. It was the first time a federal court's blocked a map on those grounds. Gerrymandering is when lawmakers redraw electoral maps to benefit their party. The judges said NC's map gave Republicans an unconstitutional advantage. Now lawmakers have a few weeks to redraw the lines in time for 2018 midterms. They plan to appeal.
KodakCoin
A new cryptocurrency from that photo company you haven't heard of since you used a disposable camera. Only photographers can get it on it. TBD on whether they snap it up.
SKIMM GIFT | TOGETHER WITH 
For when your relatives keep asking you what to get you for your wedding…
But first, registry. Create one and enter for a chance to win $10,000 cash. Yes, really. Wedding bills could get a lot more manageable. Get started.
For when you made a resolution to eat more greens…
The lettuce on your burger counts. So does Daily Harvest. It's the best way to start the day by drinking your greens. Pour it up, pour it up.*
Psst…Here are more ways to stay on top of the new year.
For when you need a new Insta obsession…
*PS This is an affiliate partner, which means if you purchase or sign up theSkimm may get something in return. Thanks.
Skimm HQ'rs is all about this heat wave. Share theSkimm with your friend who lives somewhere that's been cold AF.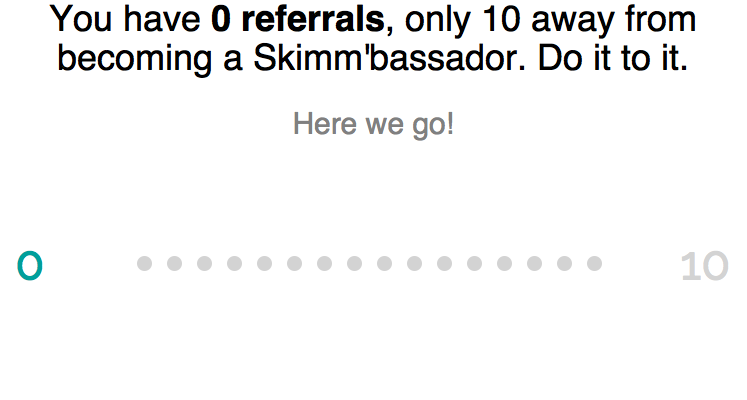 Or use this referral link theskimm.com/?r=352dbb46
* indicates Skimm'bassador.
 Make a wish.
Vera Schapps NY, Kate Lancaster DC, Michael Jankowski NJ, *Ellen Antworth GA, *Julie Hosman IL, *Brooke Sutherland VA, *Adrienne Ashworth CA, *Whitney Friel OR, *Kelsey Kroger IL, *McKenna O'Donnell TX, *Christina Schoepp CA, *Robin Bielman CA, *Stefanie Mardar FL, Andrea BuchananNY, David Bates FL, Brooke Schiowitz NY, Elyse Leff NY, Jennifer Haykin NY, Molly Belkin NY, Jodi Smalley SC, Philip Livingston WA, Darlene Ramsey KY, Dena Logan OH, Cristina Dorta, Brittany Rashkin FL, Barbara Liberman NY, Yasmin Sikavi WA, GauRav Khanna NY, Alicia Verdile DC, Mary Carol Butterfield SC, Allison Fehrenkamp TX, Stephanie Palencia MA, Madison Winey NY, Nikki Pursley MO, Shuchita Madan IN, Stephanie Laing UT, Veronica Atkins NV, Melissa Futia FL, Karissa Ann SD, Ansley Hobbs GA, Buddy Gault SC, Jillian Hermansky CA, Alison Sutton CA, Emily Bowen, Amy Love NY, Doran Hastings NY, Isabel Ashley CA, Lauren Henley TX, Omar Mojaddedi, Marie Hayes MA, Rachel Perry MA, Jessie Staley GA, Alysse Dowdy VA, Brittany Modell NY, Fatadin Zahrah Iqraa VAC, Justin Lane FL, Nikki Labaschin IL, Chelsea Durham IN, Richard Bothe TX, Lynn Marie Hilleary VA, Caroline Black MO, Emily Craft NC, Senita Feagin OH