News from the Mullet Wrapper -> Democrats have a real problem in rural America
News from the Mullet Wrapper -> Democrats have a real problem in rural America
| | |
| --- | --- |
| Share:     | |
Final Virginia governor's debate spotlights Democratic problems in rural America
THE BIG IDEA: Democrats have a real problem in rural America, and it was on display in the third and final Virginia governor's debate last night.
In the heart of coal country, at the University of Virginia campus in Wise, the moderator asked Ed Gillespie about schools. The Republican nominee quickly pivoted to talk about coal. He celebrated the Trump administration's announcement that Barack Obama's Clean Power Plan will be rescinded and warned that his Democratic opponent, Ralph Northam, will try to put a Virginia version in effect if he gets elected. He then promised repeatedly to reinstate a coal tax credit.
Rather than push back, Northam – the lieutenant governor – talked about pre-K and K-12 education.  Then the moderator asked him about the Clean Power Plan. He grew visibly uncomfortable and gave a halting answer that both nodded to the importance of coal and called for embracing renewable energy. "Coal is very important to the economy in southwest Virginia. I understand that," he said. "So, I will do everything that I can to support the coal industry. … At the same time, we have a great opportunity." He explained that renewables like wind and solar are "a win-win" because they could bring the jobs of the future. "At the same time, it would move us to cleaner energy and a cleaner environment," he said.
Northam, who speaks with a deep Southern accent, grew up on the rural Eastern Shore of Virginia and attended the Virginia Military Institute in Lexington. But he's spent little time campaigning in rural areas, and he fared poorly in these places against Tom Perriello in the June Democratic primary. A medical doctor by background, Northam said rural Virginia needs a shock to the system. He said he'd fight to expand the interstate, bring Amtrak out to rural parts of the state and improve broadband Internet. But just like Gillespie has a difficult balancing actvis-à-vis President Trump, Northam struggles to talk about cultural issues like Confederate monuments and economic issues like coal in a way that resonates with these voters but does not alienate progressives who he needs to turn out for him in places like the D.C. suburbs.
3 reasons the Virginia governor's race has national relevance
— For Democrats, figuring out how to get a toehold back into rural territory is imperative. The biggest Senate battlegrounds in 2018 are in states like North Dakota, Montana, West Virginia, Indiana and Missouri.
Thus far, in Virginia's off-year election, there are few indications that they are figuring it out. If Northam blows this race – which is a very real possibility – it will set off Democratic alarm bells about the wisdom of their midterm strategy and generate a wave of nasty recriminations in the escalating civil war between the pragmatists and the leftists.
— Southwest Virginia has become less politically significant with each election because of the growth in the vote-rich D.C. suburbs, as well as around Richmond and Hampton Roads. This region used to be a Democratic stronghold, just like the Deep South and nearby West Virginia, but it has become ruby red over the years – for a mix of cultural and economic reasons. African Americans in the metropolitan areas are increasingly important to any winning Democratic coalition, as are liberals in the north.
But Trump successfully focused on running up his margins in rural areas last fall to offset Hillary Clinton's relative strength in the suburbs and among nonwhites. He pulled way more votes from sparsely populated places, from North Carolina to Pennsylvania, than most models assumed he could.
Virginia was the only Southern state that Clinton carried, but Trump crushed her in the southwest. He got 80 percent in the county that hosted last night's debate. Across the region, he pulled higher percentages and took away more votes than Mitt Romney had four years before. This was especially notable because Virginia was a bigger battleground in 2012, and Romney spent lots more money and time in the area.
Coal is a huge part of the explanation. These voters didn't forget Clinton's March 2016 gaffe. "We're going to put a lot of coal miners and coal companies out of business," she said in Ohio. (Clinton headlined a fundraiser for Northam in New York last Wednesday.)
Gillespie hopes to run up similar margins and has spent a lot of time in rural Virginia. Northam led Gillespie by 13 points among likely voters in a Washington Post-Schar School poll released last week, but other surveys show the race is within the margin of error or put the Democrat ahead only slightly. Both sides agree that the content will end up being close and may be won on the margins.
Why the world still uses coal
— Coal remains a very salient issue for voters in this region, and it is in the local news every day.
Environmental Protection Agency Administrator Scott Pruitt told coal miners in Kentucky yesterday that he will formally begin the process to repeal the Coal Power Plan, which limits greenhouse-gas emissions from existing power plants. "The war against coal is over," Pruitt declared.
"Speaking at an event in Hazard, Ky., with Senate Majority Leader Mitch McConnell (R-Ky.), Pruitt said his agency will publish the new proposed rule Tuesday," Juliet Eilperin and Brady Dennis report. "During his time as Oklahoma attorney general, Pruitt joined other opponents in suing the Obama administration … Early last year, the Supreme Court blocked the regulation's implementation after 28 states and a host of other opponents challenged its legality. … Monday's announcement that the EPA would seek to rescind the Clean Power Plan, with no promise of replacing it, brought promises of even more legal fights ahead. (Democratic) attorneys general of multiple states — California, New York and Massachusetts among them — vowed to challenge the Trump administration's decision."
Pence promises tax reform will be achieved 'this year'
— Vice President Pence plans to speak this Saturday at a rally for Gillespie in Abingdon, a coal town of 8,000 that is a one-hour drive from last night's debate venue in Wise. (To contextualize what a huge state Virginia is, it takes about as long to drive from Alexandria to Abingdon – if you don't hit traffic on I-66 or I-81 – as it does to drive up to Boston.)
Roughly 6 in 10 Virginians disapproved of the job Trump is doing in our poll last week, but more than 8 in 10 Republicans still approveand he remains even more popular in coal country. Gillespie's team wants to galvanize the base, but they're reluctant to do anything that might motivate the left more than the right – which a visit by Trump could do. That's why it's still unclear whether the president himself will come. (It also might explain why they're deploying Pence about as far away from Northern Virginia as possible.)
It's still a tough needle to thread: When Trump tweeted support for Gillespie last Thursday night for the first time, Gillespie told The Post that he neither sought the endorsement nor asked him to tweet on his behalf. He said he learned about the tweet when it popped up on his iPhone, and he said he didn't think it was surprising that a Republican president would support the Republican nominee for governor. The campaign did not publicize the show of support.
— Gillespie paints a stark picture of economic stagnation on the stump that might seem misleading to those who live comfortably in Fairfax, Loudoun or Prince William counties. The commonwealth's unemployment rate is just 3.8 percent, after all. But places like Wise feel left behind. The moderators asked each candidate last night what they would do to make the region, which has seen a decline in population, more attractive to the millennials who keep fleeing to the cities. There was also a lot of discussion about the opioid epidemic that has hit rural areas harder than anywhere else.
When each man got to ask his opponent two questions, the lieutenant governor pressed Gillespie on whether he would allow women access to contraception and if he'd support universal background checks for firearm purchases. These were both clearly intended to elicit answers that would hurt Gillespie in urban media markets elsewhere, but the Republican candidate deftly defused both by offering up no damaging soundbites. Meanwhile, Gillespie put Northam on the ropes over a meeting that Gov. Terry McAuliffe (D) canceled with sheriffs and his vote against banning sanctuary cities.
For all of Gillespie's talk about energy, Northam was very low energy on stage. He often stumbled over his words and turned in an especially weak debate performance. Northam's collar also stuck out onto his suit coat, which was distracting. His saving grace is that the Nationals were playing the Cubs in the playoffs during the first 20 minutes of their head-to-head matchup.
— The Democratic problem in rural areas is much bigger than Northam, though. In fact, one Democratic county chairman in rural Virginia briefly resigned two weeks ago after accusing the state party of "malevolent neglect." Gregory S. Schneider, who is based in our Richmond bureau, wrote an excellent piece on the kerfuffle over the weekend. Some nuggets:
Jay Clarke, chairman of the Democratic committee for Rockbridge County outside Lexington, complained in an open letter that neither the party nor the Northam campaigns asked field workers in his remote part of the state to do any canvassing. He said the party had sent out bad data that included information on Republican residents who were never going to vote for Democrats. After months of fruitless complaining to headquarters in Richmond, he said, he was done.
"I understand the temptation to go where the votes are. It's a necessity, of course," said Clarke, a retired history professor. But over time, that strategy cedes vast parts of the state to Republicans and lets them cement control of the General Assembly, he said. "Goodness, you ought to be able to walk and chew gum at the same time. You can certainly appeal to voters in urban areas and contest in rural areas as well. I don't see why the two should be incompatible."
The party responded quickly, promising to fix the data, hire more field workers and communicate better: State Democratic Party Chairwoman Susan Swecker grew up on a farm in Highland County, also one of the most isolated parts of the state, and she said she has been doing a lot of unglamorous work to build up the party's foundation. "We didn't lose rural voters overnight, and we know we're not going to win them back overnight, but I think it's very important that we show up and compete everywhere," Swecker said. "Do I understand their frustrations? Yes, because I'm from where they're from. But I believe we have worked through whatever concerns he [Clarke] may have had."
Clarke rescinded his resignation. But others say the trouble is deep-seated. "I don't think the problems have been unique to just this year. I think, in fact, really all over the country some of the Democrats in rural areas have been a little frustrated that they've been taken for granted," said Gene Zitver, chairman of the Democratic committee in Lexington.
"Del. Sam Rasoul of Roanoke, the westernmost Democrat in the House of Delegates, resigned a leadership role in the party caucus last year to protest what he said was its lack of outreach to rural voters who went for Trump. This summer, he started an initiative called Democratic Promise that aims to help constituents with real-world problems. Several rural party leaders have signed up to participate — an end-run around the official party mechanisms. 'It's clear in rural Virginia where we've seen the number of super-Republican precincts double that we're losing touch with a lot of Virginia, and we need to do more as Democrats to ensure we rebuild those relationships,' Rasoul said.
"Northam is hampered by the fact that the single biggest issue in southern and western Virginia is a pair of natural gas pipelines being constructed there. Northam has infuriated environmentalists by refusing to condemn the pipelines, saying their ultimate approval is up to federal regulators. His Republican opponent favors the pipelines, but activists have focused their ire and disappointment on Northam — perhaps making him even more reluctant to campaign in their midst … The campaign strenuously denies that this is the case."
THE LOBBYIST FACTOR:
— In the D.C. suburbs, Northam tries to link Gillespie with Trump every chance he gets. But in a region where the president is popular, he instead focused last night on the GOP nominee's background as a Washington lobbyist. When Gillespie attacked Northam for missing meetings of various state boards he sits on, the Democrat fired back: "I served for eight years in the U.S. Army. I showed up for this country. … You've been a K Street lobbyist in Washington. The only time you show up is when you get paid!"
"I did show up for my clients … and was effective on their behalf. And I will be effective on behalf of the people of the commonwealth of Virginia," Gillespie replied.
Call it the Haley Barbour defense. Like Gillespie, Barbour was a high-priced lobbyist and former chairman of the Republican National Committee before putting his name on the ballot. He vigorously defended his background on K Street to get elected governor of Mississippi in 2003. "When I became governor, I became lobbyist for the taxpayers of Mississippi," Barbour likes to say.
Gillespie added later that he would be able to advocate for Virginia with the administration, noting that he could work with Transportation Secretary Elaine Chao to get more funding for roads.
Democrats seized on the "effective" quote and hope to make that the main takeaway from the debate. "Ed Gillespie is right: He was 'effective' at lobbying for scam artists and special interests whose policies hurt Virginians," said the Democratic Governors Association's Jared Leopold.
WHILE YOU WERE SLEEPING:
— The full Trump was on display in an interview with Forbes magazine's Randall Lane, "Inside Trump's head." Lane advanced a "single theory" that he thinks explains everything about the president: Trump views everything as a deal to be won or lost and suddenly all of his unpredictability makes sense. "Numbers offer Trump validation. They determine the winner or loser of any deal and establish an industry hierarchy. It's why Trump, more than any of the 1,600 or so people who've been on The Forbes 400, has spent more time lobbying and cajoling Forbes to get a higher valuation–and validation.
"In the Oval Office, when I tell him the markets are up 20% during his term, he stretches the time period to yield an even glossier figure. 'No, 25 since the election. You have to go since the election.'"
Some key quotes from the interview:
Rex Tillerson's apparent dubbing of Trump as a "moron" is "fake news," Trump says. "But if he did that, I guess we'll have to compare IQ tests. And I can tell you who is going to win."
Asked if he's having fun, Trump replied: "I am having fun. I'm enjoying it. We're accomplishing a lot. Your stock market is at an all-time high. Your jobs, your unemployment is at the lowest point in almost 17 years. We have fantastic numbers coming out."
Trump is dealing with Democrats because they're one of many"bidders:" "I think the Democrats want to make a deal," says Trump, referring to Obamacare. "At the same time, I think I have a deal with the Republicans. So I have the best of both worlds."
Trump pitches a new "economic development bill" that he says is being revealed for the first time in the interview. "Companies that keep jobs in America get rewarded; those that send operations offshore 'get penalized severely,' Forbes writes.
'This is my neighborhood, in flames.' Californians evacuate from wildfires
— At least 10 people died Monday after dozens of fast-moving wildfires ravaged Northern California, prompting tens of thousands of frantic evacuations and torching more than 1,500 homes and businesses in Napa and Sonoma counties. Breena Kerr, Alissa Greenberg, Cara Strickland and Herman Wong report: "California fire officials warned that the conditions, particularly winds that at times exceeded 50 miles per hour, would likely exacerbate the fires in the days ahead. At least 14 separate blazes burned in eight Northern California counties, prompting evacuations of more than 20,000 frightened residents, including patients in threatened hospitals." Gov. Jerry Brown declared a state of emergency on Monday, saying that the heat, humidity and winds are all driving "a very dangerous situation and making it worse." "It's not under control by any means," he added.
Panic escalated especially quickly in Santa Rosa, where one fast-moving firestorm managed to jump a highway before it began to tear through the city. "People are running red lights, there is chaos ensuing," resident Ron Dodds told reporters Monday. "It's a scary time … It looks like Armageddon." Later, California officials said they had begun evacuating some residents in rural areas of Sonoma, Napa and Lake counties by helicopter.
— The Nationals lost Game 3 of their division series, with the Cubs winning 2-1. Anthony Rizzo's bloop hit between outfielders Jayson Werth and Michael A. Taylor sealed the Nationals' fate, despite Max Scherzer giving away no hits for the first six innings. The Nationals are now one game away from elimination. (Chelsea Janes)
— In other ballparks across the country:
The Yankees beat the Indians, forcing a Game 5. (AP)
The Red Sox lost to the Astros, knocking the Boston team out of the playoffs. (AP)
And the Dodgers completed their sweep, defeating the Diamondbacks 3-1. (Dave Sheinin)
New detail of Las Vegas shooting raises question about police response
GET SMART FAST:​​
DAYBOOK:
Trump will meet today with Henry Kissinger before having lunch with Rex Tillerson and Jim Mattis. He will also welcome the Pittsburgh Penguins to the White House to celebrate their Stanley Cup championship.
Pence is in California today for a "political reception" with the second lady. The vice president and House Majority Leader Kevin McCarthy (R-Calif.) will then visit the Mojave Air and Space Port, and Pence will later tour the site where the first commercial spaceline is being developed.
Ivana and Melania Trump's feud, explained
ALL THE PRESIDENT'S WOMEN:
— The first lady got into a public spat with her husband's ex-wife after Ivana Trump referred to herself as "first lady" in an interview yesterday. "I have the direct number to White House but I don't really want to call him there because Melania is there and I don't really want to cause any kind of jealousy or something like that because I'm basically first Trump wife, OK? I'm first lady, OK?" Ivana Trump, who divorced the president in 1992, told ABC during an interview to promote her new book. The first lady responded with a searing statement provided by her communications director: "[Mrs. Trump] loves living in Washington, DC, and is honored by her role as first lady of the United States. She plans to use her title and role to help children, not sell books. … There is clearly no substance to this statement from an ex, this is unfortunately only attention-seeking and self-serving noise." (CNN)
— In a "Fox and Friends" interview set to air this morning, Ivana Trump added, "I am glad Melania is there and I am here." (The Hill)
A HuffPost reporter observed:
Even Bravo producer Andy Cohen, known for the Real Housewives franchise, expressed shock:
A list of senators who have questioned Trump's temperament
PALACE INTRIGUE:
— Inside the White House, Trump's mounting frustration and isolation are causing him to lash out at allies — imperiling critical relationships and putting his own legislative agenda at stake. Robert Costa, Philip Rucker and Ashley Parker report: "Trump in recent days has shown flashes of fury and left his aides, including [Chief of Staff John Kelly], scrambling to manage his outbursts. … One Trump confidant likened the president to a whistling teapot, saying that when he does not blow off steam, he can turn into a pressure cooker and explode. 'I think we are in pressure cooker territory,' said this person[.] … In a late-afternoon, unsolicited email to reporters Monday, Pence's office blasted out a blanket response under the vice president's name addressing 'criticisms of the president' …. while touting his handling of global threats[.] … But Pence's words did little to reassure some Trump allies, who fear that the president's feud with [Sen. Bob] Corker could cause more trouble for the administration and further unravel threadbare relationships on Capitol Hill."
Reaction to Corker's comments inside the White House has been mixed. "Some Trump aides believe it is dangerous for the president to fight with Corker, the chairman of a powerful Senate committee who is not running for reelection and therefore feels he has nothing to lose. Other Trump aides blame Corker for what they consider an act of betrayal, arguing that he started the feud in a bid for relevance[.]"
— Bigger picture: Trump's political outbursts are also a major play to his populist base, especially following the defeat of Sen. Luther Strange (R-Ala.). "The president has groused to numerous White House aides about his concerns over his popularity with 'my people' — his base," our colleagues write. "He blames the Republican establishment and others for failing to enact his agenda and making him look feckless, and is unhappy with losing in Alabama … Trump also made it known to several people that he wished to have a rally in North Carolina over the weekend and not just a fundraiser[.] [He ultimately just held a fundraiser, but later] complained that he wished he had gotten back out in front of the rowdy crowds he loves[.]"
— Administration officials have described several guardrails used to keep Trump's impulsivity at bay. Politico's Josh Dawsey reports: "Trump, several advisers and aides said, sometimes comes into the Oval Office worked into a lather from talking to friends or watching TV coverage in the morning. . . . Then, staffers would step in to avert a rash decision by calming him down. … [Former chief of staff Reince Priebus's] strategy was largely to delay. Instead of ousting [Jeff] Sessions like Trump wanted, Priebus, [Steve] Bannon and others had outside advisers close to Trump call him and explain the ramifications. They tried to remind him what a dedicated campaign supporter Sessions was — and that his firing could set off unpredictable dominoes."
— The Atlantic's David Frum argues that, while such "containment" methods may allow cooler heads to prevail, they also threaten the power of the presidency: "Thank you and congratulations to those officials struggling to protect American security, the Western alliance, and world peace against Donald Trump. But the constitutional order is becoming the casualty of these struggles. The Constitution provides a way to remedy an unfit presidency: the removal process under the 25th amendment. Regencies and palace coups are not constitutional. I dare say many readers would prefer a Mattis presidency to a Trump presidency. But to stealthily endow Secretary Mattis with the powers of the presidency as a work-around of Trump's abuse of them? That's a crisis, too, and one sinister for the future."
— Meanwhile, Senate Republicans had their own strategy for dealing with the latest Trump feud with one of their own: avoidance. Sean Sullivan reports: "Those who did speak did so obliquely — by praising Corker generally but steering clear of inserting themselves directly into the brutal clash. 'Sen. Corker is a valuable member of the Senate Republican caucus and he's also on the Budget Committee and a particularly important player as we move to the floor on the budget next week,' said [Mitch McConnell.] … The reaction highlighted the broader strategy Capitol Hill Republicans have adopted when it comes to the president's tendency to wage rhetorical war against their own or incite other controversies: don't engage in public no matter how anxious they may be in private."
"I work with Bob Corker nearly every day," said Sen. Lamar Alexander (R-Tenn), one of Corker's closest allies. "He is a terrific United States senator, and I'm disappointed he's decided not to seek reelection." Sen. Rob Portman (R-Ohio) also praised [Corker] in a statement as a "man of unwavering integrity."
And Vanity Fair's Gabriel Sherman dissects the tense relationship between Trump and his chief of staff, John Kelly: "According to conversations with four prominent Republicans close to the White House, Trump has grown frustrated with Kelly in recent weeks at what he sees as Kelly's highhandedness. 'They're fighting a lot'" one source explained. The most recent flashpoint was Kelly's decision late last month to reassign Peter Navarro, Trump's nationalist trade adviser, to report to Gary Cohn, without first clearing it with Trump."
"How long Kelly lasts in the job has become a topic of speculation in the West Wing. 'He doesn't love this job. He's doing it as a duty for the country,' one person close to Kelly said. According to two sources, one name being floated as a possible replacement is real-estate developer and Trump's longtime friend Tom Barrack."
Kelly has a "Mar-a-lago strategy:" "According to two sources, Kelly has developed a Mar-a-Lago strategy to prevent Trump from soliciting advice from members and friends … Sources briefed on Kelly's plans said he will attempt to keep Trump 'out of the dining room.'
— Foreign diplomats have concluded that after nine months of President Trump the hoped-for "learning curve" is not going to happen. Karen DeYoung and Greg Jaffe report: "Senior diplomats and officials from nearly a dozen countries in Europe, Latin America and Asia expressed a remarkable coincidence of views in interviews over the past several weeks. Asked to describe their thoughts about and relations with the president and his team as the end of Trump's first year approaches, many described a whirlwind journey beginning with tentative optimism, followed by alarm and finally reaching acceptance that the situation is unlikely to improve. … Instead, they see an administration in which lines of authority and decision-making are unclear, where tweets become policy and hard-won international accords on trade and climate are discarded. The result has been a special kind of challenge for those whose jobs are to advocate for their countries and explain the president and his unconventional ways at home."
Pence leaves NFL game after national anthem protests
A DIVIDED AMERICA:
— Mike Pence's departure from Sunday's Colts game demonstrated his willingness to prioritize Trump's agenda over his own, Abby Phillip writes: "It was a moment that pitted against each other some of what Pence has stated are his most deeply held convictions: his advocacy for the First Amendment against his fidelity to the flag. And his loyalty to Trump against his love for his hometown team. … Pence's attention-grabbing statement of counterprotest seemed to channel Trump in substance and in tone. To his critics, it was further evidence that Pence has gone too far to please Trump and is doing so at the risk of his own reputation."
Trump had this to say this morning:
— Meanwhile, ESPN suspended anchor Jemele Hill for two weeks on Monday after the "SportsCenter" anchor took to social media to suggest a boycott of advertisers associated with the Dallas Cowboys. Her remarks — which the network deemed a "social media violation" — came after Cowboys owner Jerry Jones said he would bench players who kneeled during the national anthem. (Jacob Bogage and Des Bieler)
— Callum Borchers notes that the tweet prompting Hill's suspension was far less provocative than the one in which she called Trump a "white supremacist." "Bob Iger, chief executive of ESPN's parent company, Disney, made clear last week that he made an exception when he spared Hill the first time. She wasn't going to catch another break. … By suspending Hill now, ESPN appears to be trying to reestablish its political neutrality. The clear message … is that ESPN does not want to be viewed as endorsing Hill's first tweet or rejecting her second. It would prefer not to be viewed as taking any position at all. The reality is that the network's inconsistent application of its social media rules has opened it up to criticism from Hill's sympathizers and detractors alike."
— AN ALTERNATIVE TAKE: When asked about police brutality against black men — which was the original source of the anthem protests — former NFL coach Mike Ditka said yesterday: "There has been no oppression in the last 100 years that I know of." Des Bieler reports: "Saying that 'you have to be colorblind in this country,' Ditka noted that 'the opportunity is there for everybody.' He added that the place to protest was at 'a ballot box,' and that people should 'respect' the winners of elections. … Ditka has not been shy in the past about expressing political views, and he was an early supporter of Trump's presidential campaign."
— An increasing number of cities have labeled Columbus Day Indigenous Peoples' Day. And the Trump campaign is fundraising off the change by accusing "Leftists" of trying to "erase our nation's past." Eugene Scott writes: "The president's reelection campaign is having a Columbus Day sale to allow customers supportive of the navigator's voyage (which did not make it to what is now the United States of America) to purchase the 'Make America Great Again' merchandise of their choice for a discounted price." Trump also omitted any reference to Native Americans from his Columbus Day proclamation.
— Just before yesterday, the scholarly journal Third World Quarterly withdrew a controversial defense of colonialism. The article was published last month and quickly denounced by many as racist. (Travis M. Andrews)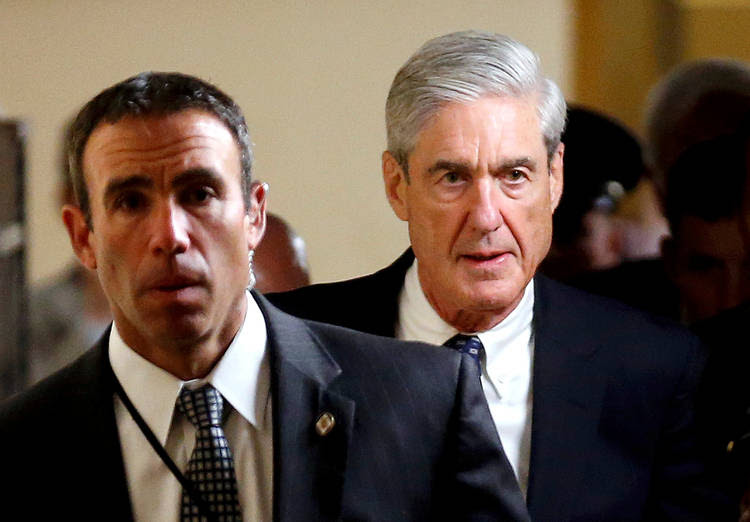 THERE'S A BEAR IN THE WOODS:
— An email written by the Russian lawyer who met with Trump Jr. during last year's presidential campaign has raised new questions about how the June 2016 meeting came together. Rosalind S. Helderman reports: "The note was written by the Russian lawyer and sent to [music promoter Rob Goldstone] who had helped arrange the session. … [The lawyer, Natalia] Veselnitskaya, wrote Goldstone on the morning of the scheduled meeting to ask whether she could bring a 'lobbyist and trusted associate.' The lobbyist, Rinat Akhmetshin, 'is working to advance these issues with several congressmen,' she continued. But her version conflicts with explosive correspondence released previously that shows the music promoter told Trump Jr. before the meeting that Veselnitskaya would bring damaging information about Hillary Clinton on behalf of the Russian government to help the Trump campaign." "If it's what you say, I love it," Trump Jr. responded at the time.
— A1 of today's New York Times, "How Russia Harvested American Rage to Reshape U.S. Politics," by Nicholas Confessore and Daisuke Wakabayashi: An "examination of hundreds of [posts] shows that one of the most powerful weapons that Russian agents used to reshape American politics was the anger, passion and misinformation that real Americans were broadcasting across social media platforms. The Russian pages — with names like 'Being Patriotic,' 'Secured Borders' and 'Blacktivist' — cribbed complaints about federal agents from one conservative website, and a gauzy article about a veteran who became an entrepreneur from People magazine. They took descriptions and videos of police beatings from genuine YouTube and Facebook accounts and reposted them, sometimes lightly edited for maximum effect. … [T]heir use of borrowed ideas and arguments from Americans, which were already resonating among conservatives and liberals, demonstrated a deft understanding of the political terrain."
— The hacker conference DEFCON, which successfully broke into 25 different types of American voting machines over the summer, will release its findings today. The report is not expected to argue that such an attack on voting systems occurred last year — only that such an event is quite possible in the future. (Politico)
THE TRUMP AGENDA:
— The Post's Fact Checker has tracked 1,318 false or misleading claims made by Trump over the 263 days since he took office. The president is just a little over two-thirds of the way through his first year in office, and his rate of claims per day has actually ticked upwards since the six-month mark. Many of the claims are often repeats; for example, he has misleadingly said 17 times that he will provide "biggest tax cut in history." (Michelle Ye Hee Lee, Glenn Kessler and Meg Kelly)
— Some Democrats are threatening a government shutdown unless a replacement for DACA is passed. Ed O'Keefe and David Nakamura report: "Facing a tight deadline — work permits for DACA recipients will begin expiring in March — [Nancy] Pelosi said her conference remains unified in opposition to Trump's ideas. But comments from Democrats Monday showed they do not have consensus on how to respond. Some members of the Congressional Hispanic Caucus signaled they would consider withholding support for must-pass spending bills in December unless the DACA recipients are granted legal status with a path to citizenship."
— Ivanka Trump entered the DACA fray when she called for a "a long-term congressional fix" at a panel last night. "I am of the opinion — and the president has stated — that we have to figure out a good solution that protects these innocent people, many of whom were brought to the country as children," Trump said. "There has to be a long-term fix, it can't be bandaged over on a presidential level by another executive order." (Politico). But Ivanka's much bigger legislative push right now is advocating for an expanded child tax credit, Politico's Nancy Cook reports.
— The White House is specifically courting the vote of Sen. Rand Paul (R-Ky.) on tax reform, even though Paul has privately indicated he will oppose the budget setting up the strategy. Politico's Burgess Everett and Josh Dawsey report: "Trump has called Paul repeatedly and told advisers that he will come around on tax reform, officials said. But Paul has shown he has no problem bucking Trump — opposing him not just on health care, but on continuing the war in Afghanistan and making more foreign weapons sales. … [Mitch] McConnell has told Trump that he shouldn't expect Paul to support the tax bill but Trump won't accept that[.]"
— Congressional Republicans are now acknowledging that Obamacare may be here to stay. Politico's Jennifer Haberkorn reports: "[T]he White House and many GOP lawmakers are publicly promising to try again [to repeal and replace Obamacare] in early 2018. But privately, both House and Senate Republicans acknowledge they may never be able to deliver on their seven-year vow to scrap the law. … Republicans are torn between the potency of their longtime rallying cry against Obamacare … and the reality they've wasted nine months of what is supposed to be the most productive time of a new administration failing to get it done. With few legislative accomplishments so far to show voters, failure on Obamacare repeal could prove to be a major liability in the 2018 midterm elections."
SOCIAL MEDIA SPEED READ:
The president applauded the owner of the Cowboys for threatening to bench players who protest the national anthem:
And tweeted this morning:
Trump and Pence fundraised off the controversy:
After Pence changed the background photo of his official Twitter account to a picture of him standing for the anthem, a former George W. Bush speechwriter had this to say:
Sen. Lindsey Graham (R-S.C.) golfed with Trump:
Senate candidate and Rep. Marsha Blackburn (R-Tenn.) complained after Twitter pulled her campaign ad:
The vice president and House majority leader were briefed on the devastating wildfires in California:
Kellyanne Conway criticized Sen. Bob Corker:
And a former Obama speechwriter fired back:
Paul Kane on Mitch McConnell's response to Corker's comments:
A parody from the former head of the Office of Government Ethics:
A ProPublica reporter offered this reminder following Scott Pruitt's announcement that the administration would abandon the Clean Power Plan:
The RNC called on the DNC to return any donations from Harvey Weinstein:
Black Lives Matter activist DeRay Mckesson expressed support for Jemele Hill after her suspension:
Al Sharpton threatened to take the fight to ESPN's advertisers:
Virginia's GOP gubernatorial candidate met with the James River Republican Women, but his photograph from the day didn't include many women:
And the race's Democratic candidate responded to a Post reporter who pointed out that he wished everyone a good weekend on a Monday:
GOOD READS FROM ELSEWHERE:
— The New York Times, "Digging Up the Dead: Probing the Ruins of Mosul," by Ivor Prickett: "Two months after the ferocious, nine-month battle to liberate Mosul from Islamic State militants, much of the city lay in ruins. Government forces supported by coalition planes had carried out repeated strikes, and the militants had fiercely defended their positions. Thousands may have died in the fighting, many lying uncounted beneath the rubble. Now that the fight has moved on, the city has turned its attention to recovering those bodies to return them to their families. That task has fallen to the city's Civil Defense workers, mostly trained as firefighters and rescue workers."
— The Wall Street Journal, "A Town's Dilemma — Find a Savior, or Just Move On," by Shibani Mahtani and Andrea Morales: "Cairo highlights the dilemma faced by struggling towns across the country that are losing population to bigger metropolitan areas. After a certain point these towns must decide whether there is enough left to fight for — and governments must decide whether limited resources would be better spent elsewhere."
— CNN, "The most famous 'undecided voter' has big problems with Trump," by Luke Mullins: "On issue after issue, [Ken] Bone — the very emblem of moderate political consideration — has turned sharply critical of the President. … And in this respect, he's come to represent middle-of-the-roaders throughout the American electorate, who – as a group – hold decidedly unfavorable views of the President. … Although Bone still won't admit who he voted for in last year's election, he says as things stand now, he's unlikely to vote to re-elect Trump."
HOT ON THE LEFT

"ESPN doesn't deserve Jemele Hill," from Erik Wemple: "Whatever Hill was advocating, she was digging into the essence of a massive controversy animating not only sports fans but also the White House, veterans and anyone who has tuned in to cable news in recent weeks. … [The tweet itself] relied on just the sort of quick thinking for which Hill is paid good money at ESPN. This business with Trump, the NFL and peaceful protest is not going away, in part because Trump and Pence don't want it to go away."

HOT ON THE RIGHT

"Providence statue of Columbus found vandalized on holiday," from AP: "The statue of Columbus is in Columbus Square in Providence. It was found doused in red and black paint on Monday. The vandalism included graffiti of an expletive followed by Columbus' name. A spokesperson for Mayor Jorge Elorza says the paint will be cleaned up. Police are investigating. Columbus statues have been defaced elsewhere across the country, including two in Connecticut during the weekend."
QUOTE OF THE DAY: 
When reflecting on Sen. Bob Corker's New York Times interview, House Freedom Caucus Chairman Mark Meadows (R-N.C.) said, "It's easy to be bold when you're not coming back."
NEWS YOU CAN USE IF YOU LIVE IN D.C.:
— It will be another hot and humid day in D.C. The Capital Weather Gang forecasts: "Watch for some patchy fog in the morning commute window.  And we can't shake off those clouds today with a frequently dreary overcast feel as temperatures work their way back up to a warm 80 to 85F high temperature range.  Humidity is not quite as high as yesterday, but still qualifies as moderate intensity and unusually strong for October[.]"
— The Capitols lost to the Lightning 4-3. (Isabelle Khurshudyan)
— Good profile –> "Jill Vogel embraces the Trump agenda in her Virginia race," by Laura Vozzella: "Jill Vogel was just getting her legal career off the ground — still a 'baby lawyer,' as a friend tells it — when she went to work for the Republican National Committee. Before long, she was chief counsel. Then a top lawyer for President George W. Bush's Energy Department. From there, she built one of the nation's most prominent GOP elections law firms and won a seat in the state Senate. Now Vogel, 47, is running for lieutenant governor of Virginia — in the drain-the-swamp style of President Trump. … If it takes a certain chutzpah for a longtime GOP insider to adopt the president's anti-establishment mantra, Vogel has it. That's especially notable because the man at the top of her ticket does not. … Her Democratic rival, former federal prosecutor Justin Fairfax, played up her ties to Trump as a negative during their debate last week. … But some Republicans praise Vogel's gutsy style and predict she will lead the GOP ticket."
VIDEOS OF THE DAY:
Sen. Cory Booker (D-N.J.) dropped by Seth Meyers's show:
Senator Cory Booker Is Very Concerned About Trump
Stephen Colbert edited himself into an interview with Trump:
Stephen Goes One-On-One With 'President Jump Shot'
Speaking in California yesterday, the vice president promised that overhauling the tax code would get done "this year":
Pence promises tax reform will be achieved 'this year'
The Post's Marc Fisher traced the rise of Fox News's Sean Hannity:
Before stardom on Fox News, Hannity found controversy on college radio
Mississippi residents cleaned up in the wake of Hurricane Nate:
Mississippi residents in cleanup mode after Hurricane Nate
And tens of thousands of bees took up residence in a New Jersey home:
30,000 bees found in New Jersey home