Dr. John R Lott -> support for gun control has surged over the last couple of years.
Dr. John R Lott -> support for gun control has surged over the last couple of years.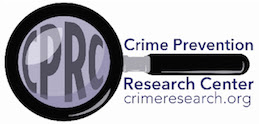 Dear John:
The following graph explains why support for gun control has surged over the last couple of years.  People come to support stricter gun control in the belief that it will lead to fewer crimes.  Polls show that, by huge margins, Americans are supporting a vast array of new gun control laws. Over 60% of respondents say that they support banning semi-automatic weapons.
By contrast, support for more gun control fell from 1998 to 2014.  And why has this occurred?  It is because Michael Bloomberg, George Soros, and others have funded a massive flood of this bogus research and gotten repeated over and over again in the news.  Those who have read these emails or the beginning of Chapter 3 in my book, "The War on Guns," knew about my warnings.  I repeatedly warned people in organizations that support the right to self-defense that this shift in public opinion was going to occur. But, to put it simply, my warnings fell on deaf ears.  They were still fighting the last war and not realizing that Bloomberg understood that he couldn't just fight the political battle, he needed to change people's underlying views about whether guns make society safer.  I just haven't had the resources to fight Bloomberg's hundreds of millions spent on research.
Right now, too many Republican politicians are running scared. They worry that the Democrats will pick up seats, as the out-of-power party virtually always does in off-year elections.
So what are we doing?  Besides working on new research, over the last two weeks, we put together two posts that attempt to offset some of the most common gun control lies.  At Vox, a young man named German Lopez wrote an article entitled, "America's unique gun violence problem, explained in 17 maps and charts."  It contains a video that Lopez claims has been seen by 20 million people.  Teachers around the country used the video in their classes.
Another video by Robert Reich, titled "5 Points to Counter the NRA," has been viewed over 2 million times in less than a week.
One congressman read our discussions of the lies put out by these gun control advocates, and told me that he thought that the CPRC was the only organization capable of writing such a response.
While our responses are useful, they will never get millions or tens of millions of views. I need to put together videos to reach more people, and I have been talking to a couple of people who do this for a living.  If we have the money, I would like to do a few videos: responding to the lies put out by Vox, Reich, and the New York Times; educating people about gun-free zones; and showing people that the US isn't unique regarding mass public shootings.  Right now, I have the money to do one of these.
We have had a busy couple of weeks.  Our op-eds have covered several issues.   Attorney General Sessions will fail to keep his promise to increase prosecutions for prohibited people trying to buy firearms.  There are also some surprising polling numbers on what people think about arming teachers and staff.  And, finally, Pennsylvania is becoming a national laughingstock for giving mini-baseball bats to teachers and rocks to students. If we're going to arm ourselves against mass public shooters, let's do it properly.
The video that I did with Steve Crowder has about 288,000 views. It's worth a watch.  Out of the various radio interviews I've recently done, the short interview that I did with Jim Bohannon for America in the Morning came out well.  250 radio stations carry his morning show.  It summarizes in about 5 minutes the hour-long interview that I did with Jim on his 500+ station broadcast.
I have also included videos of a debate that I did in Michigan and a talk that I gave on gun-free zones at Penn State Law School.
For information on activities at the Crime Prevention Research Center, here is a link to our "
info deck
."  Please view in full-screen mode and scroll using the arrow buttons at the bottom of the screen.
Links
Correcting Gun Control Lies
Correcting Gun Control Lies about "America's unique gun violence problem," responding to Vox.com's maps and charts
Robert Reich's lies about Guns
.
Op-eds and Letters to the Editor
At the Daily Caller: "SORRY SESSIONS: Here's Why The Attorney General's New Policy On Enforcing Background Checks Will Fail"
At The Hill: Let's save lives by putting more guns in the hands of teachers
At Penn Live: Here's what Pa. can do to stop the next school shooting
.
Television
Worth your time: On Louder With Crowder, 'THE WAR ON GUNS' with John Lott
Discussion: Is Consensus on Gun Regulation Possible?
With Japanese business journal, Nikkei Business, about the US gun debate
.
Radio Interviews
Worth listening to: On America in the Morning: talking to Jim Bohannon about what can be done to stop mass public shootings
On the Jim Bohannon Show with over 500 radio stations to talk about the gun control "March for Our Lives"
On Pittsburgh's giant KDKA Radio Station to discuss the possible harm of gun control and the media's bias in covering shootings
On Orlando's giant WDBO radio station: Discussing the different strategies in stopping attacks aimed at one person versus mass public shootings
On the John Gibson National Radio Show to talk about the YouTube shooting in California
On the Bill Martinez Show on the gun control "March for Our Lives"
On the Michigan Talk Network: The mirage that young people are in mass pushing for gun control. If anything, younger people are least inclined towards it
On the Vicki McKenna Show to discuss crime by Illegal Aliens
On the Michigan Talk Network to discuss what "strict" and "intermediate" scrutiny means in the gun control debate
On the Michigan Talk Radio Network to discuss crime by illegal aliens
.
Debate/Talk
"The Great Gun Control Debate" – Northern Michigan University
Talk: Should colleges be gun-free zones?
.
Analysis/Research
.
.
Record NICS background checks in March
.
News coverage of the CPRC
.
Not that long ago, kids were toting guns in New York City
At Fox News on Top-Rated States for the Gun Industry
.
Other News
.
.
John R. Lott, Jr.