Fox News First -> more agents to the southern border + Robert Mueller's hardball tactics with investigation targets
Fox News First -> more agents to the southern border + Robert Mueller's hardball tactics with investigation targets
| | |
| --- | --- |
| | Thursday, November 29, 2018 |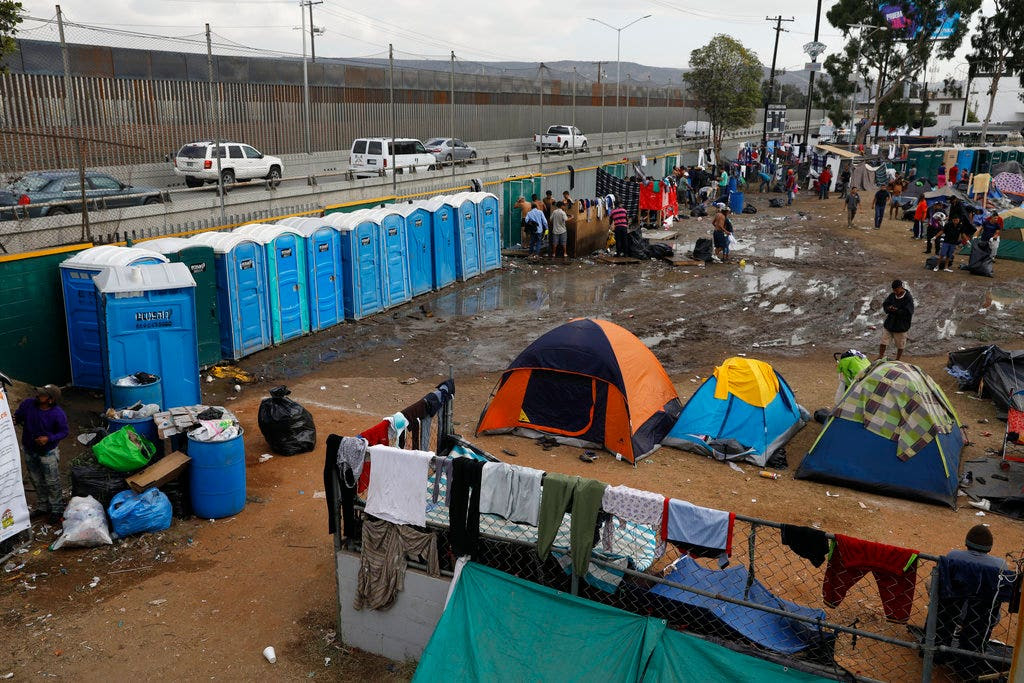 Welcome to FOX News First. Not signed up yet? Click here.
Developing now, Thursday, Nov. 29, 2018
THE LEAD STORY – DOJ SENDING REINFORCEMENTS TO THE BORDER: The Department of Justice is dispatching more assets to the southern border, responding to a call for help from Homeland Security … Senior DOJ officials told FOX News that headquarters is sending 33 DEA agents and 10 U.S. Marshals Service personnel to the Southern California border region, where migrant caravan members clashed with border agents over the weekend after rushing a U.S. port of entry. The Trump administration has referred to the situation on the southern border as a "crisis," and in recent weeks set in motion a massive movement of personnel and equipment to areas traditionally susceptible to illegal border crossings. National Guard troops have been providing support at the border for months, and thousands of active-duty military troops were dispatched in the last few weeks.
In addition, there are health concerns about the migrant caravan members. According to Tijuana's Health Department, officials have treated 2,267 migrants for health-related issues. More than 60 percent are suffering from respiratory infections. So far, authorities say, among the migrants, there have been the following: Three confirmed cases tuberculosis; four confirmed cases of HIV-AIDS; 101 cases of lice; four cases of chicken pox. Authorities are also concerned about potential cases of hepatitis because of unsanitary conditions. – Reported by Jake Gibson and Griff Jenkins
MUELLER OVERREACH? – Special Counsel Robert Mueller's tough tactics with investigation targets and witnesses are fueling complaints about the probe from President Trump and his allies at a critical stage, as key cooperation efforts seem to break down … Just this week, conservative author Jerome Corsi balked at a plea deal after complaining the Mueller team wanted him to admit to lying (which he claims he didn't do) only after he "couldn't give them what they wanted." He tweeted Wednesday he now plans to pursue a complaint against Mueller's team. Further, Mueller's team has accused ex-Trump campaign chairman Paul Manafort of violating his plea deal by lying to investigators, amid reports his cooperation agreement was not panning out how prosecutors had hoped. More information also has come to light about the nature of those Mueller-Manafort interactions, as it emerged Manafort's legal team has been briefing Trump's team about their discussions. The briefings reportedly fueled tensions with Mueller's investigators, though it was already known that the president's and Manafort's legal teams have a joint defense agreement, meaning they share information. – Reported by Brooke Singman (@brookefoxnews on Twitter) and Edmund DeMarche (@EDeMarche on Twitter)
STORMY NOT-SO-SUNNY ON AVENATTI: Adult-film actress Stormy Daniels claimed Wednesday that her attorney, Michael Avenatti, sued President Trump for defamation without her approval and launched a second fundraising campaign to raise money "without my permission or even my knowledge … and attributing words to me that I never wrote or said." ... In a statement to The Daily Beast, Daniels said that "Avenatti has been a great advocate in many ways." However, she added, "In other ways Michael has not treated me with the respect and deference an attorney should show to a client." Avenatti responded with a statement obtained by FOX News: " I am and have always been Stormy's biggest champion.  I have personally sacrificed an enormous amount of money, time and energy toward assisting her because I believe in her. I have always been an open book with Stormy as to all aspects of her cases and she knows that. You need only look back at her numerous prior interviews where she states we talk and communicate multiple times every day about her cases." – Reported by Samuel Chamberlain (@SChamberlainFOX on Twitter) 
NEW #METOO TROUBLE FOR MOONVES: Les Moonves, the former CBS head who resigned earlier this year amid sexual misconduct allegations, was hit with a new accusation by an actress in a report Wednesday … The alleged encounter between Moonves and actress Bobbie Phillips took place in March 1995 after her talent manager, Marv Dauer, set up a meeting, according to the New York Times. The actress went to the Warner Bros. studio in Burbank, California for her sit down with Moonves, who reportedly said he'd "set" her "up with John Levey," the casting director for the television show, "E.R." At the time of the meeting, Moonves was the president of Warner Bros. Television. He reportedly left a message for Levey before directing Phillips to an easel that outlined various projects going on at the company. Phillips claimed to the Times that when she turned around to look at Moonves, she realized that he'd unbuttoned his pants and exposed himself to her. – Reported by Elizabeth Zwirz
MELANIA TO CRITICS: DON'T BE GRINCHES – First lady Melania Trump brushed off criticism of her latest White House Christmas decorations and invited everyone to check them out in person during an appearance at Liberty University on Wednesday … "It's the 21st century and everybody has different tastes, I think they look fantastic," the first lady said at a town hall discussion on America's opioid crisis. "I hope everybody will come over and visit it," she said as the crowd erupted in applause. "In real life, they look even more beautiful. You're all very welcome to visit the White House." A variety of mainstream media outlets bashed Melania's holiday décor when they were revealed on Monday. Many watchdogs came to her defense, noting that negative feedback was simply an example of hypocrisy from reporters who aren't fans of President Trump. – Reported by Brian Flood (@briansflood on Twitter)
AS SEEN ON FOX NEWS
DROWNING IN HYPOCRISY – "The insider elites and nature cure quacks lecture the president every day about the rule of law. How come it doesn't apply to those who are trying to break our immigration laws? You can drown in the hypocrisy." – U.S. Sen. John N. Kennedy, R-La., on "The Story with Martha MacCallum," slamming Democrats who say President Trump is defying the rule of law in the Mueller probe while condoning illegal immigration. WATCH
FOX NEWS OPINION
Judge Andrew Napolitano: The chief justice takes on the president.
Dr. Marc Siegel: Why the mysterious condition AFM is making every parent worry.
Deroy Murdock: This is Sir Elton John's moment.
THE SWAMP
Nancy Pelosi wins party nod for speaker, but still faces uncertain floor vote.
Chris Stirewalt: Will Dems ignore voters on health care again?
Trump Labor Secretary Alexander Acosta went easy on pedophile predatorwho ensnared victim at Mar-a-Lago: report.
Senate moves forward with resolution to end U.S. military support for Yemen war.
ACROSS THE NATION
Prisoners stole more than $500G from troops in 'sextortion' scam, authorities say.
U.S. servicemen killed in Afghanistan bomb attack identified.
Ex-deputy of El Chapo reveals how reputed drug kingpin repeatedly tried to have him killed.
MINDING YOUR BUSINESS
Dow gets 617 point Powell pop, best three days since 2016.
Trump vs. the Fed: A look at all the president's attacks.
Trump wants to cut GM subsidies: Here's what that means.
GDP remains unrevised at 3.5 percent in the third quarter.
What Americans see as the U.S. economy's main threat.
Gas selling for under $2 per gallon in these states.
Elon Musk calls off plan to build high-speed tunnel under Los Angeles.
HOLLYWOOD SQUARED
Sylvester Stallone hints at end for 'Rocky' character.
Robin Williams remembered by 'Mrs. Doubtfire' co-stars 25 years later: 'He was open and honest about his addiction.'
FOX News Channel tops all of basic cable in November viewership.
DID YOU HEAR ABOUT THIS?
To the Moon and back: Apollo 11 Lunar Checklist offers glimpse into historic mission.
Dramatic video shows hunters rescuing buck deer from frozen lake.
Medieval whisky still discovered at Scottish abbey may be the world's oldest.
STAY TUNED
On Facebook:
Check out 'FOX News Update,' our Facebook-exclusive news program!
On FOX News: 
FOX & Friends, 6 a.m. ET: A look at how the mainstream media misled audiences about the migrant caravan. Plus, Google is under fire for unlawfully tracking millions of people.
FOX [email protected], 11 p.m. ET: Guests include: U.S. Interior Secretary Ryan Zinke.
On FOX Business:
Mornings with Maria, 6 a.m. ET: An exclusive interview with John Paul DeJoria, co-founder of Patrón Spirits Co. and co-founder of John Paul Mitchell Systems. Other special guests include: Bob Hormats, former Undersecretary of State for Economic Growth, Energy and the Environment; Senator-elect Marsha Blackburn, R-Tenn.; Rogers Healy, owner of Rogers Healy and Associates; Axel Weber, UBS chairman; U.S. Rep. Sean Duffy, R-Wis.
Varney & Co., 9 a.m. ET: U.S. Sen. John Hoeven, R-N.D.; Martin Feldstein, George F. Baker Professor of Economics at Harvard University and the president emeritus of the National Bureau of Economic Research.
Cavuto: Coast to Coast, Noon ET: Guests include: Kevin Rudd, former prime minister of Australia; U.S. Sen. John Kennedy, R-La.; Austan Goolsbee, former senior economic adviser to President Obama.
Making Money with Charles Payne, 2 p.m. ET: U.S. Rep. Matt Gaetz, R-Fla.; David Tafuri, former foreign policy adviser to the Obama campaign; Gordon Chang, author of "The Coming Collapse of China."
Kennedy, 9 p.m. ET: Special guests include: Buck Sexton.
On FOX News Radio:
The FOX News Rundown podcast: Federal Reserve Chairman Jerome Powell took on an optimistic tone about the state of U.S. financial system on Wednesday, walking back his statement from last month about rising interest rates. FOX Business Network's Deirdre Bolton and Charles Gasparino break down the chairman's remarks. Ron Rudolph needed something to fill his time after his wife died from cancer in January 2018.  With the help of his daughter, Kristy Boike, they started "Rudolph's Bluebird Houses" in honor of his wife's favorite bird. They join the podcast to share how their cathartic project became a family business. Plus, commentary by FOX News' chief judicial analyst, Judge Andrew Napolitano.
Want the FOX News Rundown sent straight to your mobile device? Subscribe through Apple Podcasts, Google Play, and Stitcher.
The Brian Kilmeade Show, 9 a.m. ET: The caravan crisis, the latest in the Mueller investigation, and lame duck Congress are the topics of discussion with the following guests: Alan Dershowitz; U.S. Rep. Mia Love, R-Utah; Dana Perino.
The Tom Shillue Show, 3 p.m. ET: Tyrus and Britt McHenry, hosts of the daily FOX Nation program "UN-PC," sit down with Tom Shillue to discuss the top stories of the day.
#OnThisDay
2017: "Today" host Matt Lauer is fired for what NBC calls "inappropriate sexual behavior" with a colleague; a published report accuses him of crude and habitual misconduct with women around the office.
1981: Actress Natalie Wood drowns in a boating accident off Santa Catalina Island, Calif. at age 43.
1963: President Johnson names a commission headed by Earl Warren to investigate the assassination of President Kennedy.
1890: The first Army-Navy football game is played at West Point, N.Y.; Navy defeats Army, 24-0.
FOX News First is compiled by FOX News' Bryan Robinson. Thank you for joining us! Enjoy your day! We'll see you in your inbox first thing Friday morning.