The Skimm -> Chaos at the US-Mexico border is reaching a new high + A dozen federal agencies issue report on Global Warming, uh, no it is now climate change
The Skimm -> Chaos at the US-Mexico border is reaching a new high + A dozen federal agencies issue report on Global Warming, uh, no it is now climate change
  QUOTE OF THE DAY  

"$400,000 was found in this man's washing machine. He was arrested on suspicion of money laundering" – A real CNN tweet. And contender for pun of the year.
THINGS THAT HAPPENED WHILE YOU ATE LEFTOVERS
Immigration updates
The Story
The chaos at the US-Mexico border is reaching a new high.
In what way?
For weeks, thousands of Central American migrants have been traveling through Mexico to seek asylum in the US. More than a week ago, many reached the border city of Tijuana, where they've been held in a makeshift shelter. Tijuana officials reportedly say the shelter (a converted sports complex) is at least 1,500 people over capacity and they lack the resources to provide better help. The mayor is calling this a humanitarian crisis. This weekend, Trump tweeted that if needed, he'll close the entire southern border. And said that all migrants will stay in Mexico while their asylum claims go through US courts. This would break from current US immigration policy – which allows migrants to stay in the US while their claims are processed. Mexico's incoming gov says it hasn't signed off on this change just yet.
So what's new?
Yesterday, hundreds of migrants protested in Tijuana over how slowly the asylum process was going. The protest got out of control when some broke past a Mexican blockade and ran toward the San Diego border. The secretary of Homeland Security says the protesters threw things at US border agents. US border agents fired back at the crowd with tear gas. The gov temporarily closed the border crossing. And Mexico says it'll deport some migrants who tried to rush the border.
theSkimm
The Trump admin's immigration crackdown just kicked into high gear, graduating from deportations and family separations to actual clashes and tear gas as hundreds of migrants stormed the border. Now, both the US and Mexico are figuring out their next move on a migration crisis that doesn't look like it's going away anytime soon.
---
Climate change report
The Story
On Friday, more than a dozen federal agencies dropped a report saying 'climate change is bad…very, very bad.'
How bad?
It could lead to the US economy losing hundreds of billions of dollars by the end of the century, apparently more than double the losses of the Great Recession. Farmers in the Midwest could see a serious decline in their soybean and corn yield. Dairy and fishing industries are also expected to be hit. Things like higher temperatures and more wildfires could lead to the deaths of thousands of Americans. The report seems to undermine President Trump's approach of getting rid of environmental regulations to try to help the US economy.
So how'd this report happen?
It's required under a law from 1990. The NOAA and a dozen other federal agencies drop a report at least every four years on how climate change is impacting the US. It was scheduled to come out next month. But the Trump admin released it on Black Friday, when the main news Americans are focused on deals on deals on deals.
theSkimm
President Trump has often shrugged off concerns about climate change. Now, over a dozen federal agencies are pointing out what could go wrong with that approach. But the report states that doing things like cutting greenhouse gas emissions ASAP might help avoid some of their worst predictions.
What to say when your friends convince you to make New Year's Eve plans…
I'm on board. Yesterday, EU leaders backed UK PM Theresa May's Brexit deal. Yes, that sound is May breathing a huge sigh of relief after months and months of fighting. You've been hearing about the mess across the pond: there's been a lot of back and forth between the UK and the EU kids on the bloc over specifics like a border in Ireland. But they've come up with a fix. And now, the remaining EU countries are giving it the thumbs up – more than a week after May's cabinet did the same. Here's what happens next: UK parliament is expected to vote on it next month. Lawmakers are pretty divided on all of this, so it's TBD how that'll go. If they say 'aye,' then the European Parliament votes on it. And if they're both down, the divorce deal is a go starting in March. If they aren't, Brexit could still start in March without a deal – and with a lot of chaos.
---
What some people are upset about…
France's rising fuel taxes. Over the weekend, thousands turned out for the eighth day of protests against them. French President Emmanuel Macron has upped fuel taxes as part of his plans to ditch fossil fuels and invest in renewable energy. Hundreds of thousands started protesting earlier this month against paying more taxes – and two people have reportedly died since. Meanwhile in Spain, tens of thousands of people protested to stop violence against women. This issue made headlines earlier this year, after five men accused of gang raping a teen were cleared of the most serious rape charges and found guilty only on a lesser charge. The protests yesterday marked an international day to combat violence against women. People chanted, held signs and apparently called on the government to better address these issues.
---
What people are watching…
Syria. A suspected chemical attack in Aleppo appears to have injured more than 100 people. The Syrian gov has carried out chemical attacks in the past. This time, the gov and its ally Russia say rebel forces are behind this. The rebels deny it, and say that the gov is trying to get out of a ceasefire. Speaking of conflicts Russia's involved in, there's this. Ukraine has accused Russia of firing at and seizing several of its ships. This is about the Kerch Strait – it connects the Azov and Black Seas off the coast of Crimea. A 2003 treaty says both Ukraine and Russia control the strait, but Russia's been trying to play bouncer after it annexed Crimea in 2014. Yesterday, Ukraine said it gave a heads up that its ships were headed to the strait, but Russia still shot at them and injured at least six sailors. Russia said Ukraine trespassed and intentionally tried to start a conflict. Today, Ukraine's parliament is set to decide on whether to introduce martial law – and the UN Security Council's holding a meeting on all this.
---
Who you'll be hearing about today…
George Papadopoulos. A federal judge denied the former Trump campaign adviser's request to hold off on his prison sentence for lying to the FBI in the Russia probe. He's starting his 14 days behind bars today.
---
What to say after catching up with your friends back home during Thanksgiving break…
Reunited and it feels so good.
---
What to say while stressing about all the new movies you need to see…
For when it's the season of giving…
It's also the season of saving. It is when you shop Target's Cyber Monday deals. Start checking off your nice list with 15% off top gifts at Target.com. And since you're getting so much done, might as well add a little something for yourself. Get into it.*
For when the Monday after a vacation is rough…
Treat yourself. We want to give you $3,000 to spend with Garnier, Z Gallerie, and Beyond Proper. Yes, that's three zeroes. Enter here.
*PS This is a sponsored section.
Skimm HQ is very much here for Cyber Monday. Share theSkimm with your co-workers who are also spending the day online looking for deals.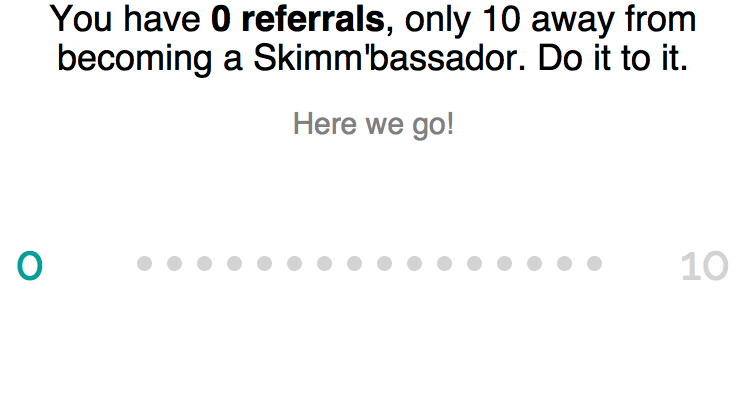 Or use this referral link theskimm.com/?r=352dbb46
* indicates Skimm'bassador.
Blow out the candles.
Rachel Grundmeier DC, Dave Warren FL, Sydney Williams NY, Taylor Salditch NY, Zoe Tomaras IL, Erin Jankowski NJ, *Ashton Hoselton IL, *Audra Anders GA, *Chrissy Chen CAN, *Danielle Modica CT, *Erika Chapin CT, Jenna Bush Hager TX, *Jess Sienkowski MN, *Julie Rodriguez NJ, *Kat Hulst FL, *Kayla Alexander SC, *Kristina Sperline WA, *Molly Harris ON, *Nadine Carter ID, *Nicole Jala NY, *Anna Mahon VA, *Bill O'Connor CA, *Brooke Chandler LA, *Ilana Lisann VA, *Jaclyn Jansen OH, *Jessica Reece GA, *Karen Barlow TX, *Kelly Kraus OH, *Kelsey Gilmartin NY, *Kristin Magette KS, *Lauren Tellman WA, *Mary Dowling IL, *Maura McQuade CT, *Natalie Clark IN, *Paige Olivetti ID, *Paiton Florey IL, *Samantha Faragalli NJ, *Savannah Day MS, *Susanne Fluri IL, Allison Pataki IL, Allyssa Rose NH, Alyse Chandler SC, Anna Wertheim OH, Bethany Hostetler OR, Carolyn Barlow CA, Carolyn Cameron DC, Chelsea Leonard NY, Colin McCourt Bueche IL, Dana Fischetti CT, Danielle Derkink GA, Debbie Borman IL, DeShonna Brown VA, Donna Bailey SC, Donna Jo Fitzpatrick KY, Elizabeth Nurse MA, Frederick Sowah CT, Howard Woodard SD, Jane Rosenfeld NY, Jessica Cable OH, Jessica Jeffress KY, Jewel O'Hanlon IL, Julia Neppl SC, Julieta Hinojosa TX, Kathleen Cannon CA, Kathryn Vinson TN, Katrina Goode VA, Kevin Freeman NY, Lauren Miller Apple LA, Lauren Polakoff IL, Lauren Skrobacz VA, Leigh Purcell GA, Lina Galindo FL, Liz Walker DC, Lyan Rivera GA, Madison Stinson MN, Maria McNeely DC, Mariam Yara Elkadiki MS, Matt Russell NC, Melanie Sillman CT, Melanna Marcellot CO, Meredith Harris NJ, Michael Becker NY, Natalie Moceri MI, Olivia Joorman PA, Rachel Love MI, Ruthie Burrus TX, Sabrina Tishko PA, Samantha Halliday CT, Savannah Kelly FL, Sharone Morris MD, Vasantham Annadurai WI, Alex Hughey TN, Angie DelGrosso PA, Caitlin Heinkel NJ, Cathy Werner TX, Christine Courtwright CO, Cindy Renee FL, Connie Comeau MI, Devin Morse MV, Gillian Murphy MA, Ginny Deffendall NC, Haley Freck IN, Hannah Gailen IL, Imani Shaw NY, Jane Toskovich NJ, Jen Mast GA, Jess Ordeñana-Papa NY, Jillian Chiappisi NY, Julia Tedesco CT, Kayla Pappas IL, Kelley Chan GA, Kelly Jones TN, Kerry Roman NJ, Kim Price LA, Laura McPherson DC, Leisa Nissi MA, Linda Moses FL, Mai Silvius GA, Mary Ann Dujardin UK, Meredith Westerlund DC, Nadine Nandi CAN, Natalie Zfat NY, Rachel Smith DC, Sam Spangler TX, Shoham Bhadra MD, Sue Graditor CA, Sylvia Delk WI, Sylvia McClure FL, Tammy Bennett CA, Taylor Ferguson PA
---
Skimm'd something we missed?