The Skimm -> Israeli Prime Minister Benjamin Netanyahu having problems
The Skimm -> Israeli Prime Minister Benjamin Netanyahu having problems
  QUOTE OF THE DAY  

"'Scott Free': some guy, probably" – Merriam-Webster throwing shade at President Trump's incorrect use of scot-free. Will the real Scott Free please stand up?
The Story
Israeli Prime Minister Benjamin Netanyahu is having a year.
Why?
Netanyahu has been in charge for almost a decade – and is one of the longest-serving PMs in Israel's history. But he's facing multiple corruption allegations, like: accepting hundreds of thousands of dollars worth of gifts, planning to help a newspaper take down its competition to get good press in return, and getting involved with an Israeli telecom company merger in exchange for positive coverage on its news site. Netanyahu denies everything.
What's the latest?
Over the weekend, police recommended that Netanyahu be indicted for bribery, fraud, and other shady things – making it the third time this year they've recommended charges against him. Now, it's up to Israel's attorney general to decide if he should be indicted.
What if he is charged?
Well, it doesn't mean he'd have to resign. He could keep his post while his case makes its way through trial – a path he's hinted he would probably take…if it came to that.
What would this all mean for Israel?
Israelis are headed to the polls for elections late next year. But Netanyahu could call for the vote to be moved up. Some think he may take that route, while he's still Mr. Popular in the country. And might dissuade the AG from indicting him. Others think that if an indictment happens, his critics may petition for him to resign under the same rules that are set up for current cabinet members.
What else?
As we said, Netanyahu's having a year. Last month, there was already talk that he might have to call for early elections because of the situation in Gaza, a Palestinian-held territory that Israel has blockaded for years. Hamas – the Islamic militant group that runs Gaza – and Israeli forces had been fighting for months. Last month, the two sides called for a ceasefire. Israel's defense minister said 'bad call' and resigned – leaving Netanyahu in a tough spot, and leaving his party with only a one-seat majority in parliament. And as if Israel didn't have a lot on its plate already, it launched a campaign today to expose what it says are cross-border tunnels from Hezbollah – an Iranian-backed militant group in Lebanon.
theSkimm
Netanyahu isn't just the country's PM: he's also taken on the jobs of foreign minister, health minister, and defense minister. And, while these allegations have been a test to his grip on power, so far he's passing that test. TBD if or how long he's able to keep it up.
What to say when your performance review goes better than you expected…
Let's celebrate. Yesterday, Wall Street celebrated the US-China trade truce by saying 'buy, buy, buy.' Over the weekend, President Trump and Chinese President Xi Jinping said they were pumping the brakes on their tit-for-tat trade war while they talk things out in couples therapy. Meaning: no new tariffs for 90 days. Plus, Trump says China will cut tariffs on US-made cars. Sweet, right? Sure…if it came with details, a long-term plan, or a more concrete response from China. As is, there's still a lot to be worked out – which is why many think Wall Street got a little ahead of itself.
---
What to say when you're not down with the group chat's New Year's Eve plans…
Ditching you guys. Yesterday, Qatar announced that it's leaving OPEC – the group of 15 member countries that control most of the world's crude oil reserves. Qatar has some bad blood with OPEC member Saudi Arabia. Last year, Saudi Arabia and others put an economic and diplomatic embargo on Qatar over allegations that the country finances terrorism. This has pushed Qatar closer to Saudi rival Iran. Now, Qatar will be the first Middle Eastern country to leave the group. The reason it gave: to focus on natural gas production. The confusion: it probably didn't need to leave OPEC to do that. Qatar officially exits left next month. Until then, it'll still attend this week's OPEC meeting to make sure things are nice and awkward for everyone.
---
What to say before your friend moves away…
How about one last hurrah? Republicans in Wisconsin know the feeling. They've been working to limit incoming Democrats' power once they take office. Last month, Gov.-elect Tony Evers (D) beat out incumbent Gov. Scott Walker (R). But Republicans kept control of both chambers of the legislature. So before Evers and other incoming Dems arrive on the job, GOP lawmakers are trying to pass some laws. Including: limiting early voting, restricting the governor's ability to make some appointments, and changing a 2020 primary date to potentially benefit a conservative Supreme Court justice. Dems have called it a power grab. Republicans have called it a check on executive power. Hundreds have showed up at the state Capitol to protest. Republican lawmakers in Michigan are also trying to pull the same stunt, and both states are taking a page out of North Carolina's book.
---
What people are talking about…
Denmark. Last week, the gov there reportedly announced that it's placing as many as 100 migrants on a tiny island. Specifically, those who have been convicted of crimes, and rejected asylum seekers that can't go back home. The gov said it's not jail, but people can't really leave once they're there. So…kinda like jail. A Danish org says it's watching closely to see if there are any human rights violations.
---
What to say to the coworker who plays Christmas songs on repeat…
Banned. Just like porn on Tumblr.
Jameela Jamil
"The Good Place" actress whose name keeps popping up on your newsfeed. She hasn't been afraid to call out celebrities when it comes to unrealistic beauty standards (see: this video on detox tea). Over the weekend, she said that airbrushing should be banned and called it a "disgusting tool that has been weaponized." Not everyone was on board. She doesn't care though, and she's still planning to fight the good fight.
For when the only socks you have are mismatched…
Variety is the spice of life. Get a grown-up sock drawer with this brand. They make socks with arch support, a cushioned footbed, and fun colors so your feet feel (and look) like they're walking on rainbows. Skimm'rs get something off their first order.*
For when your gifting skills are meh…
Get your head in the game. And by head we mean toothbrush head. This brand can help. You can gift a starter set that comes with an electric toothbrush, toothpaste, and holder. Skimm'rs get an exclusive discount. Go for it.*
For when last minute holiday travel sets your budget back…
Let your savings plan take off. Fidelity can help you there. Open a brokerage account with zero account minimums and zero fees to start making money moves now. Learn more here.*
*PS This is a sponsored section, which means if you purchase, theSkimm may get something in return. Thanks.
Skimm HQ is adding more HQ'rs to our office. Share theSkimm with your new co-worker you need to grab coffee with.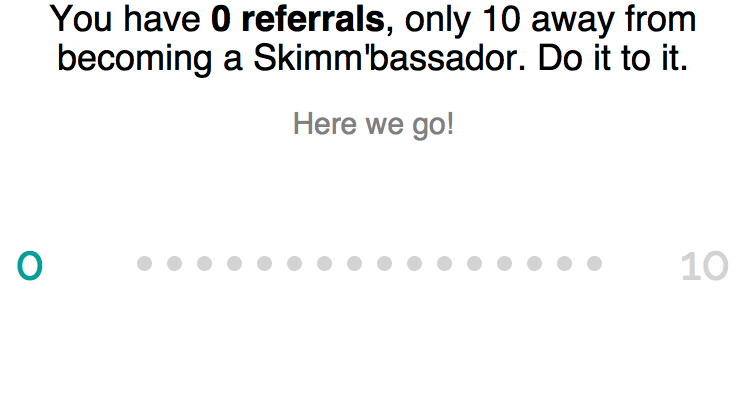 Or use this referral link theskimm.com/?r=352dbb46
* indicates Skimm'bassador.
 Put your party pants on.
Aileen Schruth NY, Tricia Culligan NY, *Ann Robbins VA, *Tracey Blake CO, *Michelle Bradin CA,*Jenna Byland LA, *Caroline Matlock TX, Tyra Banks CA, *Cathy Huang NY, *Danielle Kamm AZ, *Gabriella Ward DE, *Jessica Chyfetz ON, *Joy Rawls WA, *Karen Abrams NJ, *Lauren Kobren PA, *Lydia Bugli MA, *Allison Mays NC, *Alexandra McColgan CO, *Michele Salpietra NC, *Nicole Chung DC, *Maggie Rabinovitz CAN, *Rebekah Shapira SC, *Taylor Rhodes OH, Brooklyn Rains GA, Kara Akers CO, Barbara Alioto CA, Lisa Armenio Inglese NY, Ashley Mercer VA, Monique Bartley CA, Sara Beth Hughes AR, She-lee Burya OH, Cindy Dew FL, Donna Dorriety MA, Rhesha Driscoll IL, Leah Freedman MD, Niki Harris AL, Michael Hartman MD, Bailey Frady NY, Leissa Jackmauh CT, Stephanie Kaufman CA, Arianne Larimer LA, Stephanie Mangels NY, Polly Matin Il, Carly McCoy NY, Ashley McCulley CA, Stacey McMinn AR, Brennen Menzie MO, Mia Morgan VA, Maggie MulderrigMD, Pauline Nguyen CAN, Allie Paolisso MA, Richard Patterson KS, Emily Peck NY, Dan Rhoades IN,Jenny Rice MO, Alette Rivera FL, Lisa Rome CT, Tiffany Rosa NY, Jeff Runyan CA, Joline SattarelleCA, Noah Schultz NY, Emily Sexton MI, Susan Shapiro MA, Meredith Skaggs TX, Robby SlaughterIN, Kara Smith TX, Cindy Stockdale OR, Sharon Stolt CA, Cameron Tabak CA, Gian Villamil-OteroMD, Rachael Wall TX