Axios – Headlines -> It's Ash Wednesday + Whitehouse security clearance
Axios – True or Fake? It's Ash Wednesday + Whitehouse security clearance
PRESENTED BY THE BOEING COMPANY 
Axios AM
By Mike Allen ·Mar 06, 2019
Good morning. It's Ash Wednesday.
 D.C. readers: You're invited to Mind the Skills Gap tomorrow at 8 a.m. (With sous vide egg bowls as part of an innovative breakfast!)
Axios' Kim Hart talks with Kevin Hassett, chair of the White House Council of Economic Advisers; Rob Falzon, vice chair of Prudential Financial; and Randi Weingarten, president of the American Federation of Teachers. RSVP.
Was this email forwarded to you? Sign up.
1 big thing: Three trends driving corporate image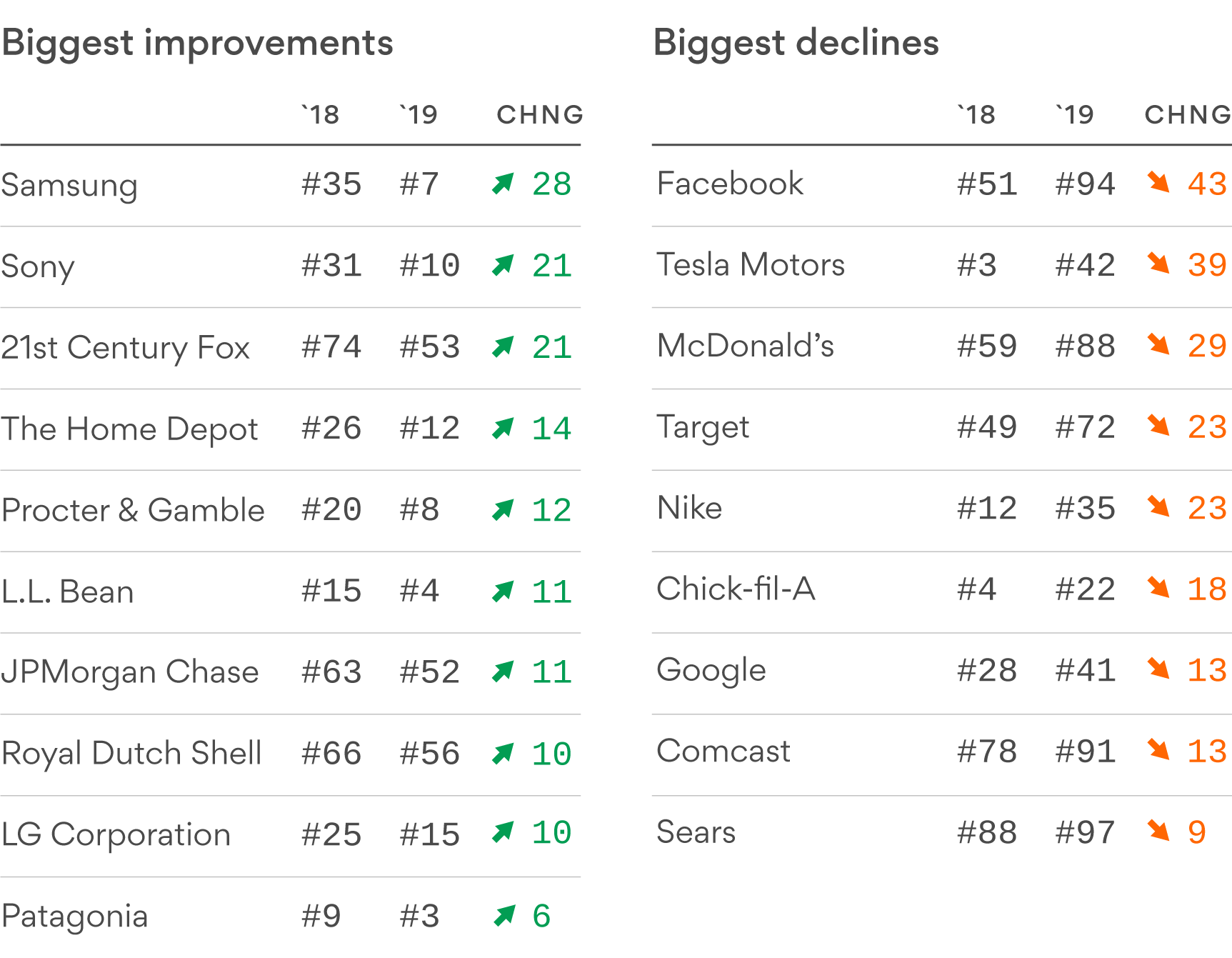 The Axios Harris Poll 100 ranks the reputations of the most visible U.S. companies, based on a nationally representative sample of 18,228 Americans.
The poll, a new partnership between Axios and Harris Poll, is powered by 20 years of proprietary research from The Harris Poll Reputation Quotient.
The rankings are billed as "a measurement of what real people think right now about the companies in our cultural conversation."
The top five — Wegmans, Amazon, Patagonia, L.L. Bean, and Walt Disney — all were rated highly on vision, growth, trajectory, character and ethics, Axios managing editor David Nather writes.
Facebook's ranking took a big hit. So did Tesla's.
Here are three big trends Harris uncovered in this year's poll:
1) De-FAANGed by the techlash … The West Coast tech stocks known as FAANG (Facebook, Amazon, Apple, Netflix, Google) fell amid privacy scandals:
Facebook took the hardest hit, dropping 43 spots (from #51 last year to #94). Google fell 13 spots, from #28 to #41. Apple, which peaked in 2016 at #2, slipped from #29 to #32. Netflix dropped from #21 to #24. Amazon broke its three-year streak in the top spot, falling to #2 this year.
Microsoft, the once-derided '90s monopolistic colossus, "now looks as friendly and benign as its founder, Bill Gates," at #9, up two spots.
2) Captains of controversy: When the celebrity CEO becomes a liability … Last year, Tesla was everybody's darling. This year, with CEO Elon Musk fueling controversy, the electric-car company dropped 39 spots, from #3 in 2018 to #42, with declines in rankings for character, trust and ethics.
"The lesson for chief communications officers: don't put all your eggs in [the CEO] basket," Harris advises. "Better to spread out your authority across your leadership and pick your social issues carefully."
3) The wellness revolution: The death of the processed marketplace … Supermarkets are big winners: Wegmans, the Rochester-based chain with a cult following, ranks #1 this year and leads top 10 rankings in culture, ethics and citizenship.
Wegmans is recognized in its communities for hiring local talent, fostering its workforce and representing a local reprieve from a toxic culture.
Publix (#6), Kroger (#21) and Aldi (#23) ranked high for trust, ethics and culture.
Why it matters: There's now a huge opportunity "for companies to reinvent themselves around nutrition, betterment and optimism."


2. CNN: Trump overruled staff on Ivanka clearance
CNN reports that President Trump "pressured his then-chief of staff John Kelly and White House counsel Don McGahn to grant his daughter and senior adviser Ivanka Trump a security clearance against their recommendations."
A week ago, the N.Y. Times scooped that Trump ordered Kelly to grant his son-in-law and senior adviser, Jared Kushner, a top-secret security clearance last year, rankling Kelly and McGahn.
Why it matters, per CNN: "While Trump has the legal authority to grant clearances, most instances are left up to the White House personnel security office."
⚡ P.S. … "New York state regulators have subpoenaed President Trump's insurance broker, following testimony from former Trump attorney Michael Cohen that Trump exaggerated his wealth to insurance companies." (WashPost)


3. Phone numbers are the new Social Security numbers
Illustration: Sarah Grillo/Axios
Cellphone numbers have become a primary way for tech companies like Facebook to uniquely identify users and secure accounts, in some ways becoming a proxy for a national ID, Axios tech editor Scott Rosenberg writes.
Why it matters: That over-reliance on cellphone numbers ironically makes them a less effective and secure authentication method. And the more valuable the phone number becomes as an identifier, the less willing people will be to share it for communication.
Facebook faced criticism this week for connecting profiles with phone numbers that users provide for the purpose of two-factor authentication — in which a person's login is protected by both a password and a device like their smartphone.
American culture and law are hostile to establishing any sort of national ID, leaving businesses and organizations to find substitutes.
But the internet lacks its own identity system. Email addresses were long a popular but imperfect choice.
Once Congress mandated that you can take your phone number from one provider to another, we ended up with a "cellphone number for life" system.


A MESSAGE FROM THE BOEING COMPANY
Women have always made us better
From riveters to engineers, women like Elinor Otto and Helen Holcombe played important roles at Boeing and helped pave the way for future generations of women. #WomenMakeUsBetter

Meet some of the trailblazers who helped shape our future from day one.
4. Pics du jour
Photo: Mike Eliason/Santa Barbara County Fire Department via AP
Time exposures show lightning strikes last night over Santa Barbara, Calif.
A storm soaking California's Central Coast today could trigger mudslides in wildfire burn areas. Thousands of residents are under evacuation orders. (AP)
Photo: Mike Eliason/Santa Barbara County Fire Department via AP


5. Beyond the bubbles: From $22 an hour to $11
Happier times: In 2010, an auto worker photographs the first Chevy Cruze off the assembly line in Lordstown, Ohio. (Amy Sancetta/AP)
What's new: The last American-made Chevy Cruze will roll off the assembly line today at GM's sprawling assembly plant in Lordstown, Ohio, AP reports.
"The plant employed more than 4,000 people just a few years ago, but it has been down to 1,400 hourly employees in recent months."
Why it matters: It's the first of five North American plants GM wants to close by early next year as part of a companywide restructuring.
"Lordstown shows how the nation's booming jobs market is still leaving vast segments of America behind," the WashPost's Heather Long writes.
"Scott Mezzapeso had to do something last month he never imagined: call his ex-wife and warn her that he might not be able to pay child support on time."
"Mezzapeso earned $22 an hour with good benefits at Magna, a GM supplier that made seats for the Chevy Cruze, but he was laid off last summer as the auto giant scaled back."
"Now he makes $11 an hour working part time at Bruno Bros. Pizza, the only job he has found after months of sending out his résumé."


6. The youngest billionaire
Forbes lists 2,153 billionaires (worth a combined $8.7 trillion) on its 33rd annual World's Billionaires list, down from 2,208 ($9.1 trillion) in 2018.
This was only the second decrease in the past decade.
252 women were on this year's billionaires list, down from 256 in 2018.
Kylie Jenner, 21, made the list for the first time: "Jenner is the youngest billionaire in the world … Jenner owns 100% of Kylie Cosmetics, the three-year-old beauty business that did an estimated $360 million in sales last year."
President Trump's net worth is unchanged from a year ago, at $3.1 billion.


7. Dems divide over Israel
Rep. Ilhan Omar arrives for the State of the Union address. (Carolyn Kaster/AP)
"Provocative comments from Rep. Ilhan Omar of Minnesota have thrust the Democrats into an uncomfortable debate over Israel," AP's Laurie Kellman writes:
"Increasingly, the rift appears as much generational as ideological, with newly elected Democrats showing less deference to the party line."
"Omar became the flash point after she suggested … Israel's supporters are pushing U.S. lawmakers to take a pledge of 'allegiance to a foreign country.'"
Why it matters: "It's at least the third time she has forced older, pro-Israel Democrats who run the House into awkward territory over U.S.-Israeli policy."
Republicans have stoked the furor. President Trump called Omar's remarks "a dark day for Israel," and posted a photo of himself in Jerusalem.
What's next: "[P]ro-Israel Democrats led by Speaker Pelosi are expected to offer a resolution condemning anti-Semitism."
The text will be updated to include anti-Muslim bias. An outpouring of support for Omar prompted leaders to broaden the measure.


8. Goldman loosens collar
Goldman Sachs is the latest Wall Street bank to drop its stuffy dress code in favor of a "flexible" approach likely to appeal to millennials the company is trying to hire, the Financial Times' Laura Noonan reports (subscription):
"Goldman's new chief executive David Solomon, whose penchant for weekend DJ-ing already stands to put him in good stead with the firm's younger workforce, announced the move in a memo" yesterday.
"The change comes three years after a similar pledge by JPMorgan Chase."
From the memo: "Given our firm philosophy and the changing nature of workplaces generally in favor of a more casual environment, we believe this is the right time to move to a firmwide flexible dress code."


9. Carmakers seek electric-car sounds
Volkswagen's I.D. Buggy is displayed yesterday during the first press day of the 89th Geneva auto show. (Robert Hradil/Getty Images)
"Carmakers are dreaming up futuristic electric car engine sounds to ensure that pedestrians can hear vehicles that lack audible cues like high-revving, howling combustion engines," Reuters' Ed Taylor reports from the Geneva auto show.
"As BMW, Mercedes-Benz, Audi, Mini and VW prepare to launch battery-driven vehicles, carmakers are searching for a new way to market the potency of their zero-emissions vehicles."
"VW's electric cars will have speakers designed to draw the attention of pedestrians," a VW executive told Reuters, "standing next to a lime-green electric dune buggy being shown in Geneva."


10. 1 film thing
Photo: Jae C. Hong/AP
After 45 years, Hello Kitty will make her Hollywood debut, the Hollywood Reporter's Mia Galuppo writes:
"Sanrio, the Japanese company behind the iconic feline, has granted film rights to the Warner Bros. label New Line Cinema and Flynn Picture Company to develop the character's first English-language feature film."
"Hello Kitty has previously appeared in comic books, TV series, video games … as well as on more than 50,000 different branded products."


A MESSAGE FROM THE BOEING COMPANY
#WomenMakeUsBetter
As the nation recognizes Women's History Month, Boeing knows women make us better. That's why we're dedicated to addressing the need for more women to pursue careers in STEM.
Axios thanks our partners for supporting our newsletters.
Sponsorship has no influence on editorial content.

Axios, 3100 Clarendon B‌lvd, Suite 1300, Arlington VA 22201