Morning BREW -> Jobs report – Iran – Markets
Morning BREW -> Jobs report – Iran – Markets
| SPONSORED BY | |
| --- | --- |
Well, that was a blast. The U.S. women's soccer team completed a Eurotrip for the ages, dominating the field and winning the World Cup for the fourth time.
Their victory means we fired up the first economic models for the 2023 tournament. At first glance…we like our chances.
| | | | |
| --- | --- | --- | --- |
| | S&P | 2,990.41 | +19.29% |

| | | | |
| --- | --- | --- | --- |
| | NASDAQ | 8,161.79 | +23.01% |

| | | | |
| --- | --- | --- | --- |
| | DJIA | 26,922.12 | +15.41% |

| | | | |
| --- | --- | --- | --- |
| | 10-YR | 2.037% | -64.8 bps |

| | | | |
| --- | --- | --- | --- |
| | GOLD | 1,401.20 | +9.07% |

| | | | |
| --- | --- | --- | --- |
| | OIL | 57.73 | +26.02% |
*As of market close
Jobs report: It provided a nice accompaniment to fireworks. Manufacturing was a bright spot as the U.S. economy added a higher-than-expected 224,000 jobs in June.
Iran: The country's officials are treating aspects of the 2015 nuclear deal like a speed limit in Montana. Iran said it will boost uranium enrichment beyond agreed-upon levels.
Sovereign debt: For the first time ever Thursday, France issued a 10-year bond with a negative yield. There's now a pile of over $13 trillionin negative-yielding debt globally as investors anticipate more stimulus from central banks.
---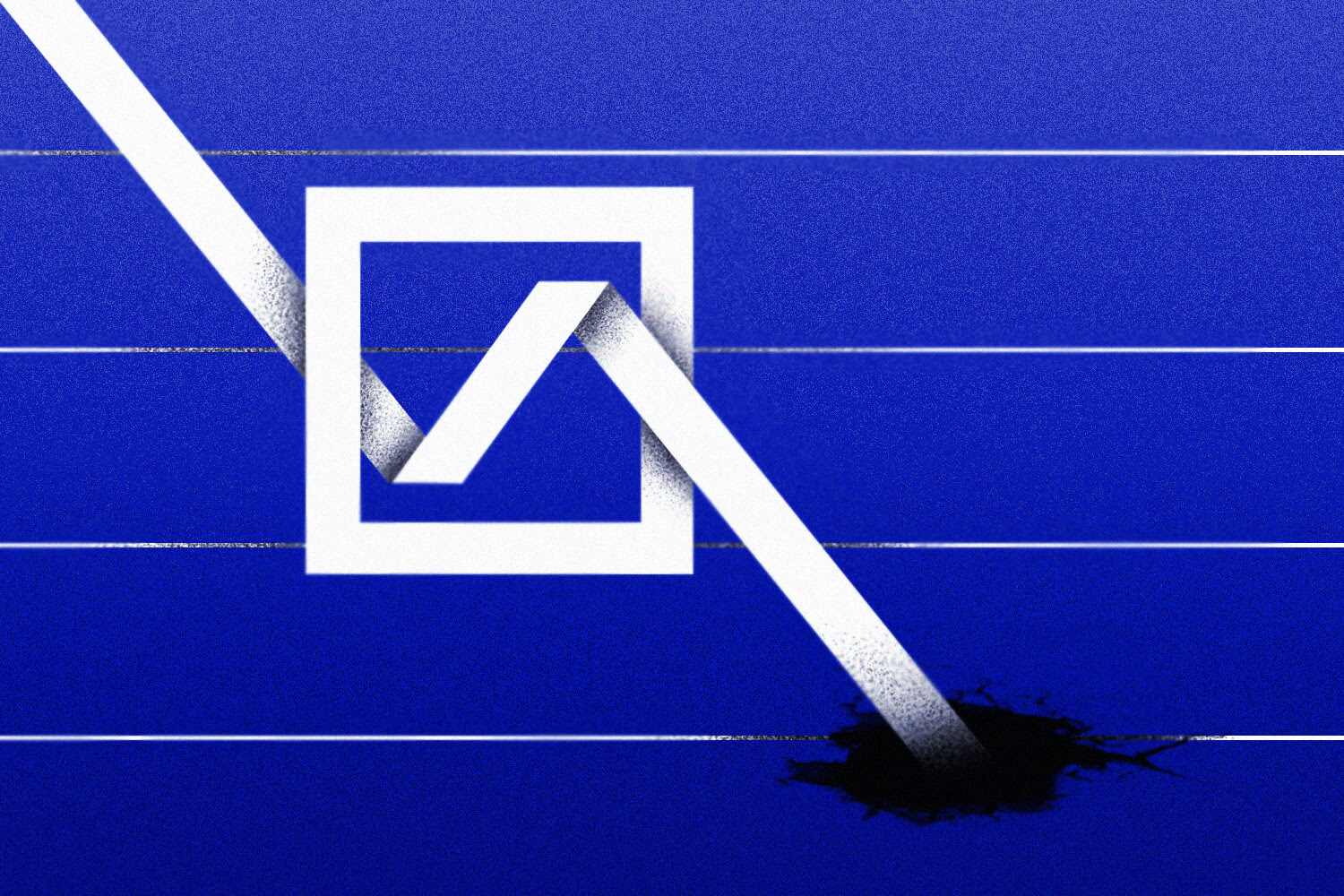 Francis Scialabba
Deutsche Bank, once the pride of European lending, is being reduced to a scooped out bagel. CEO Christian Sewing announced a seismic restructuring plan Sunday intended to boost profitability at the expense of the bank's ambitions to compete on a global scale.
Where you can expect shrinkage
The business units: DB will ditch its global equities sales and trading business entirely by 2022. It'll also cut back on investment banking activities, which account for about half of revenue.
The jobs: About 18,000 jobs will be eliminated by 2022, many of which are expected to be in NYC and London. Also on the way out are executives like the head of retail banking and the investment banking chief.
The cost of the plan: DB will take an estimated $3.1 billion net loss in Q2 and a total charge of $8.3 billion by the end of 2022.
Deutsche Bank will also establish a "bad bank," aka a separate unit to store more than $300 billion of high-risk assets before they're wound down or sold.
Then and now
Deutsche Bank had volunteered as Europe's tribute to Wall Street, eager to spar with New York's banking heavyweights on the global stage. But under the bright lights, it forgot its lines and wet its pants. DB suffered from years of scandal, regulatory scrutiny, a plummeting stock price, and brutal competition…so it's back to community theater.
The restructuring means DB is returning to its bread-and-butter of 1) serving European corporate clients and 2) retail banking in its home country of Germany.
It's identified asset management, currency trading, and trade finance as potential growth areas, per the WSJ.
Bottom line: Sewing said the plan is "the most fundamental transformation of Deutsche Bank in decades," but it also represents one of the most significant transformations of the entire banking sector since the financial crisis.
---
Using her time in New Orleans more productively than 99% of visitors, Democratic presidential candidate Kamala Harris introduced a $100 billion program to shrink the racial gap in homeownership.

Harris revealed the proposal at the Essence Festival, an annual, mostly musical event geared toward black women. The details:
The government would give grants of up to $25,000 to help black families living in districts that have been historically redlined.
Redlining is the discriminatory lending practice of denying loans to certain neighborhoods because they're home to mostly minority residents.
Zoom out: Home ownership is considered a meaningful way to generate wealth. And according to a Harvard University study, in 2017 the black homeownership rate was 43%. The white homeownership rate was 72%.
Also at the festival…other 2020 hopefuls were slinging policy plans like they were Mardi Gras beads. Cory Booker, for example, talked about his proposal to give every U.S.-born child a savings account.
+ Want to learn more about housing segregation? Read Richard Rothstein's The Color of Law. 
---
Source material: A WSJ report on Amtrak's (somewhat) new boss, Richard Anderson.

1. Over the next year, Amtrak expects its annual adjusted operating loss will shrink to zero, something the passenger railroad's never before accomplished.

2. Not all routes are created equal. Amtrak's big moneymaker is the Northeast Corridor between Boston and D.C., where the speedy Acela line brought in $319 million in adjusted earnings alone last fiscal year. But Amtrak lost over half a billion on its 15 long-distance trains during the same time.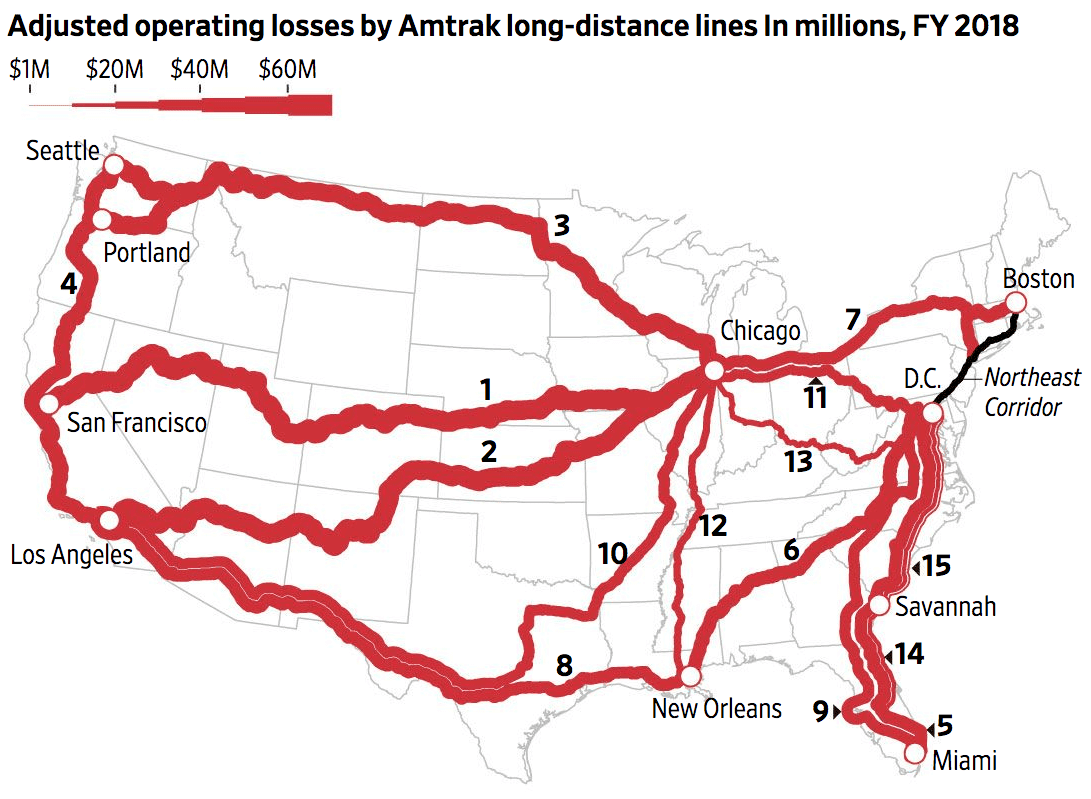 3. As you can see on the map, there is a route (called the Southwest Chief) that runs between Chicago and Los Angeles. Anderson has signaled he wants to alter routes like the Southwest Chief, but some lawmakers are pushing back, arguing those trains are the only viable long-distance transportation options for rural residents.
4. Anderson used to be the CEO of Delta Air Lines, where he was known for a confrontational style.
5. This may frustrate many of you, but to trim costs, Anderson scrapped a plan that would improve wi-fi service along the Northeast Corridor.
---
Have You Ever Wanted to Invest in Real Estate?
Yeah, us too. Between the eye-opening historical returns and the opportunity to invest in something other than stocks and bonds…it seemed like a no-brainer.
The only problem? Without a small fortune or having to pay high hidden fees, we couldn't find a way to get in the game. That's because private real estate is an asset class that was historically open to only institutional investors.
Then we got turned onto Fundrise, and it changed, well…everything. By leveraging new technology and federal regulations, it brings this once-unattainable world right to you.
And because Fundrise approves only a tiny fraction of deals they review, they'll help you invest in some of the hottest properties on the market–like new apartment complexes in Seattle or new home construction in Los Angeles.
With 8.7–12.4% historical annualized returns since 2012, this is the type of opportunity your portfolio has been waiting for. So seize the day. Get started with Fundrise right now.
P.S. Here are the disclaimers we know you've been waiting to read.
---
Welcome to "Venture This," where we introduce you to a startup generating buzz. Then you decide: would you invest? 
When you're having trouble sleeping at night, direct your thoughts to the customers of PodShare, a "co-living" company renting out bunk beds for up to $1,200 a month. PodShare is responding to the California housing crunch in a drastic way, offering 220 beds across five hostel-esque locations in LA and, most recently, one in San Francisco.
What comes included at PodShare Venice: Showers with toiletries, some food, wi-fi, computers, a hammock, and stimulating pillow talk.
What's not included: Any privacy or the ability to bring in non-registered guests.
The company's website describes its ethos: "Millennials don't own a gym at home, they buy a membership. We don't subscribe to cable television, we watch Netflix. We don't buy CDs we stream music. American car sales are on the decline because we Lyft or Uber. "
Now we throw it to you. Does PodShare make…any sense at all? Would you invest? Vote here.
---
Last week, Southern California experienced several earthquakes along fault lines and foul lines. Dear tectonic plates and the NBA: This week, let's take it easy.

Monday: National Pretend You Care What Your Coworkers Did For July Fourth Day; MLB Home Run Derby

Tuesday: Small business optimism; earnings (Levi's, PepsiCo)

Wednesday: Jerome Powell begins two days of testimony on the Hill; Fed minutes; wholesale trade data; earnings (Bed Bath & Beyond)

Thursday: CPI inflation data; Treasury budget; earnings (Delta Air Lines); get a brain freeze with a free Slurpee from 7-Eleven

Friday: Producer-level inflation data
---
---
Brew's Bets
Ah, summer. The season of outdoor social obligations that still require pants. Revtown's soft, breezy denim will keep you cool, even when it's hot.*
Tech is changing customer service. Get insights from over 3,500 global service leaders and agents in Salesforce's State of Service research. Learn how AI is impacting the future of customer service (and more) here.*
After you read the Brew, you're probably going to knock out a bunch of emails that piled up over the holiday. Here's a graphic from Dani Donovan to help you out.
*This is a sponsored post
Greater Than or Less Than
Xerox stock year-to-date performance // Microsoft stock year-to-date performance
Average U.S. monthly job growth in 2019 so far // Average U.S. monthly job growth in 2018
Distance from NYC to London // Length of the Nile river
Number of Bed Bath & Beyond stores // Number of Nordstrom stores
---
You only need 3 more referrals to receive Light Roast (our premium Sunday newsletter).

It's the adrenaline boost your Sunday morning has been craving all along…and goes perfect with Pedialyte.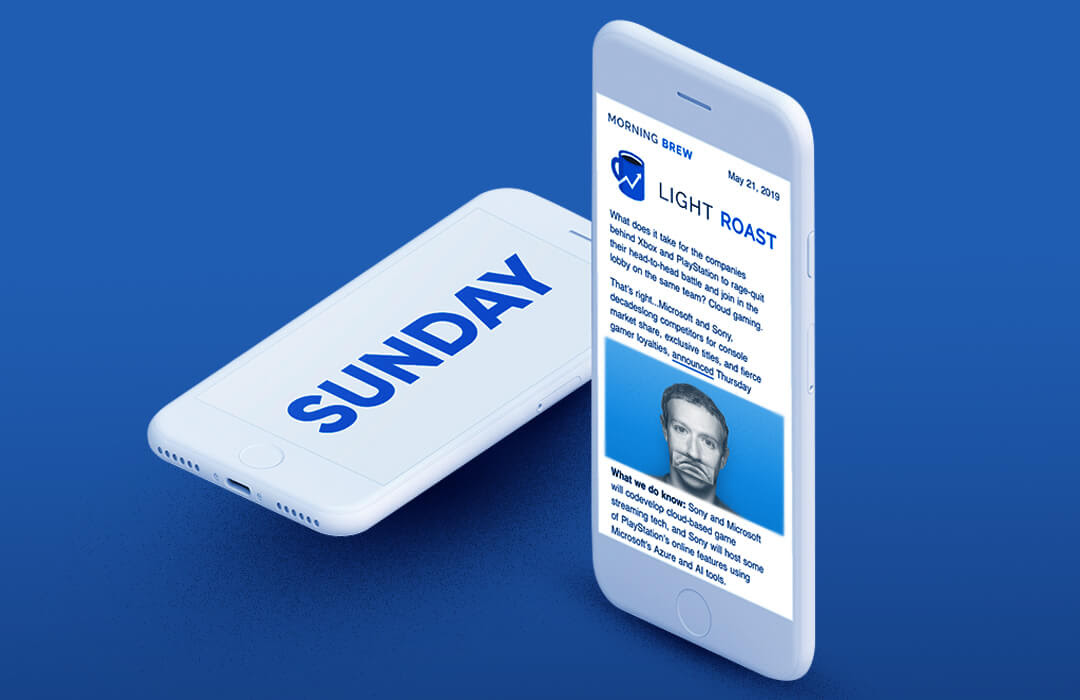 Access your personalized referral page below to seamlessly share with your network.
Click to ShareOr copy & paste your referral link to others:
morningbrew.com/daily/r/?kid=dd3ff973
---
Greater Than or Less Than
Greater than. Xerox stock is up over 80% in 2019.
Less than. At 172,000 jobs created/month, 2019 is a step behind the 223,000 jobs/month created in 2018.
Less than. The Nile is longer than the distance from NYC to London.
Greater than. There are fewer than 400 Nordstrom locations while Bed Bath & Beyond has over 1,000.