Morning Brew 🔍 Banks Are Ready to Earn Your Attention
Morning Brew 🔍 Banks Are Ready to Earn Your Attention
| TOGETHER WITH | |
| --- | --- |
Good morning and congrats to LSU on winning the national championship, even though you kept us up way past our bedtime.

While this next milestone doesn't come with a trophy, we are excited to announce our podcast Business Casual hit 1 million downloads. You can see what all the hype is about this morning with a brand new episode. Listen to Union Square Ventures Managing Partner Rebecca Kaden dish on all things venture capital: Apple / Spotify / everywhere else
| | | | |
| --- | --- | --- | --- |
| | NASDAQ | 9,259.75 | + 0.88% |
| | | | |
| --- | --- | --- | --- |
| | S&P | 3,283.85 | + 0.57% |
| | | | |
| --- | --- | --- | --- |
| | DJIA | 28,880.61 | + 0.20% |
| | | | |
| --- | --- | --- | --- |
| | GOLD | 1,550.60 | – 0.61% |
| | | | |
| --- | --- | --- | --- |
| | 10-YR | 1.850% | + 2.70 bps |
| | | | |
| --- | --- | --- | --- |
| | OIL | 58.03 | – 1.71% |
*As of market close
Trade/markets/everything: The U.S. Treasury Department no longer considers China a currency manipulator ahead of Wednesday's signing of the "phase one" trade deal. The stock market hit fresh highs.
Commodities: Wanna feel smart? Even Ken Jennings probably doesn't know that the price of rhodium has surged 31% already this year as investors anticipate more demand from the auto sector. South Africa accounts for more than 80% of global output of the precious metal.
Francis Scialabba
Yesterday, Brooklyn Nets point guard Spencer Dinwiddie launched his token-based investment vehicle, and every kid who once dreamed of being an NBA GM said, "actually…I'll pass."

It's that complicated. Last September, Dinwiddie revealed a plan to create a blockchain-based investment platform called DREAM Fan Shares. The goal was to sell 90 "SD8" tokens backed by his contract (a three-year, $34 million deal), allowing Dinwiddie to collect $13.5 million upfront.
Think of the tokens as a three-year "Spencer Dinwiddie bond" that will pay out a 4.95% base interest each month.
Only accredited investors can get involved; the minimum payment is $150,000.
Why invest? Warren Buffett couldn't find a better value stock than Dinwiddie. He's one of the most improved players in the NBA, and his contract is "regarded in league circles as a bargain given his production," the NYT writes. He's currently in the running for the All-Star Game.
The NBA fought back
After reading a few Reddit threads on blockchain, the NBA decided portions of Dinwiddie's plan violated its collective bargaining agreement, which states that "no player shall assign or otherwise transfer to any third party his right to receive compensation from the team under his uniform player contract."
The league threatened to ban Dinwiddie for what he called "some fun stuff with his contract."
When Dinwiddie made his contract less fun, the two sides reached some level of understanding. But the NBA released a statement yesterday saying it still needed to "determine whether the updated idea is permissible under league rules."
Zoom out: What Dinwiddie is doing isn't totally new—after all, David Bowie issued "Bowie bonds" in 1997 using the singer's current and future revenue as collateral. But the move does show how today's NBA players are pushing the league's boundaries. And if successful, Forbes writes, the Spencer Dinwiddie bond would "revolutionize the way professional athletes own their own brands and intellectual property."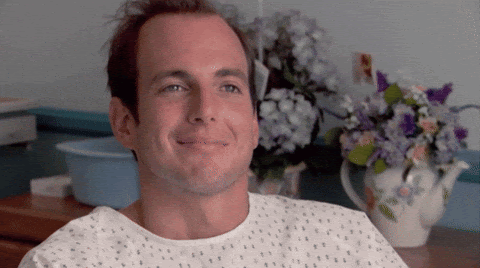 Giphy
Steph Korey slept on it, and she changed her mind: She's coming back to Away, the direct-to-consumer luggage startup, as co-CEO.

What "it" is: In December, an article in The Verge quoted former employees who described a "toxic work environment" enabled, and often perpetrated, by the CEO Korey. Following a social media firestorm, Korey apologized and said she would step aside as chief executive but remain on the board.

Monday morning, the company hit everyone with the ol' "jk." Lululemon COO Stuart Haselden, who was tapped as the new Away CEO, will now share the role with Korey. And Away is turning defense into offense: Per the NYT, it hired the same lawyer who successfully sued Rolling Stone over its retracted "A Rape on Campus" article about a UVA fraternity.

Looking ahead…the plan is for Haselden to eventually take full operational control after a transition period. But it is unique for a brand to rebuke the social media audience that made it successful in the first place.
Getty Images
We're already six pancakes deep waiting for JPMorgan, Wells Fargo, and Citigroup to report quarterly earnings this morning. They'll tell us whether the economy will emerge from flu season unscathed.
Bad news first
The Fed dropped interest rates last year, which cut into lending profits. In response, banks are now doubling down on less volatile businesses like wealth management. Trade war uncertainty also trimmed the growth of commercial and industrial loans as businesses paused new investments.
But lower rates taketh and giveth
Invigorated consumers borrowed heaps to spend on big-ticket items like houses and cars. That's good news for banks with big mortgage arms (Wells Fargo, JPMorgan).
More good vibes: 
The KBW Bank Index rose about 13% in Q4.
The Fed is expected to hold rates steady this year.
The booming stock market kept trading revenues up.
Big banks earned more than $120 billion in combined profit in 2018, a record. Let's see if they can top it in 2019.
+ While we're here: Today is also Charles Scharf's first earnings report as Wells Fargo's new CEO. Reuters says he's not the bedtime-story type.
Marriage Story / Netflix
We're not talking about the 16 combined Oscar nods for The Irishman and Marriage Story. After Netflix secured more nominations than any other studio yesterday, two leading theater chains reminded us they're in an all-out war with the streaming company.

AMC Theatres and Regal Cinemas, which traditionally show films nominated for best picture leading up to the Academy Awards, will not give Netflix any screen space after it sidestepped traditional theatrical releases for those films.
To meet the Academy's release requirement for best picture consideration, Netflix relied on a network of independent theaters.
Other notes
Joker led with 11 nominations.
Some critics panned the Academy for failing to nominate a single female director and for not handing more nominations to films like Little Women, Hustlers, Us, and The Farewell, which featured strong female leads.
Disney's Frozen II, the highest-grossing animated movie ever, was expected to contend for best animated feature…but didn't get the nomination. Netflix's Christmas flick Klaus did—which could be a sign its independent animation studio is gaining steam.
SPONSORED BY THE MOTLEY FOOL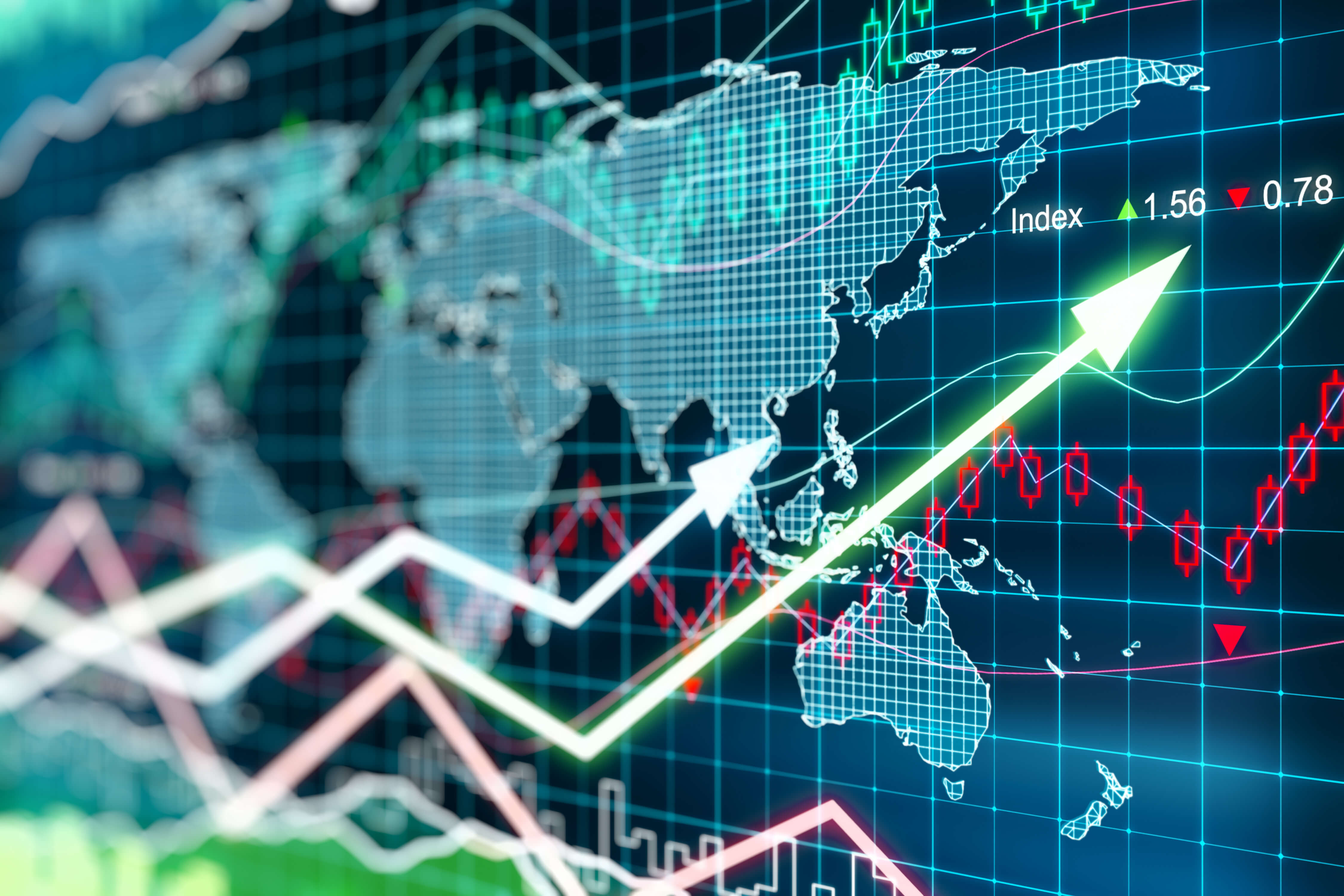 We aren't math majors, but we know a big number when we see one. And that one up there might seem like the odds I'll eat pizza alone tonight, but actually it signifies David Gardner's average stock pick returns over the last few decades.

Don't know David Gardner? He's a stock-picking legend. So when he says, "Buy," we say, "Mom and dad can we get an advance on our birthday money?"

You saw this coming, but David's got a tech stock he can't stop recommending. In fact, he issued a "Buy" alert on this stock mere months after the company IPO'd—then recommended the same stock again a few months later.
Maybe Peter Pan had it right all along. New research shows that peak misery in developed countries happens at 47.2 years old.

In a working paper for the National Bureau of Economic Research, Dartmouth College Professor David Blanchflower found that in 132 countries studied there is a U-shaped "happiness curve." In advanced countries, that curve hits its minimum at 47.2; in developing countries, 48.2.
He found the U-shaped curve was present after controlling for education, marital, and employment status and often after not controlling for those variables at all.
Zoom out: In a separate paper called "Unhappiness and age," Blanchflower links reduced middle-age wellbeing to the financial crisis and trade. "The resiliency of communities left behind by globalization was diminished by the Great Recession which made it especially hard for the vulnerable undergoing a midlife crisis with few resources, to withstand the shock."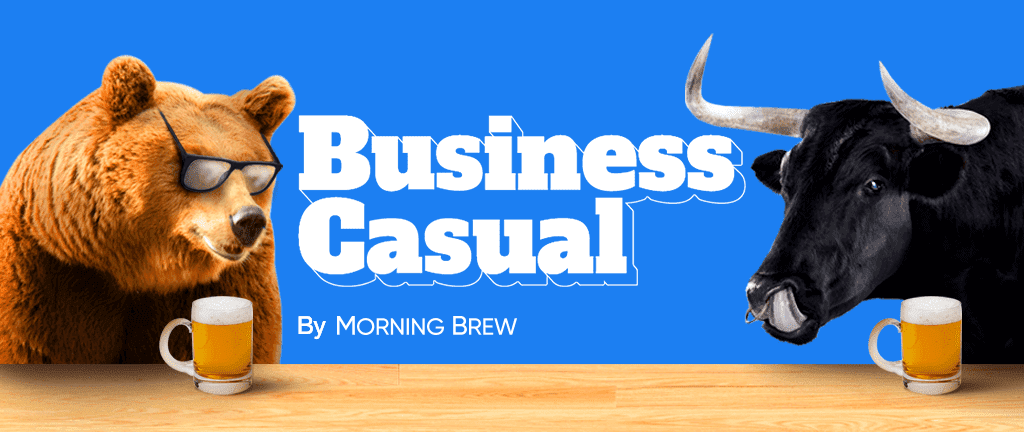 Francis Scialabba
You know what happens when you assume: You make a terrible investment mistake. So why are so many startup founders and everyday investors assuming today's endless well of venture capital is…actually endless?

This week on Morning Brew's weekly podcast, Business Casual, Union Square Ventures Managing Partner Rebecca Kaden explains that, even though venture as a whole is armed with more capital than ever before, "nerves are spiking and we know change is coming."

But what does that change look like? And when the change comes, where can you find opportunity in a venture-funded world packed with potential WeWorks (no offense)?

Kaden dives into all that, plus…
Why the inherent risk of venture capital is misconceived by the market
Why recessions are good for venture capitalists but bad for you
How her economic predictions compare with those of Juicy J
Listen here: Apple / Spotify / everywhere else
Are you an investing genius? With Fundrise, you don't need to be. Their easy-to-use platform for real estate investing is driven by an experienced management team. You'll feel like a pro, without having to quit your day job. Start investing with Fundrise today.*
Is there a ceiling on your career? Then raise it with the CMA® (Certified Management Accountant) certification. Make an impact by mastering the 12 most critical areas in finance and accounting. Elevate your career.*
Tech Tip Tuesday: If you're reading this on a PC, check your operating system because Microsoft is ending support for Windows 7 today. If you're still running it, your options are:

Get Windows 10 (if your computer's younger than three)
Buy a new computer and get Windows 10 (if your computer's older than three)
Continue using Windows 7 without tech support or security upgrades, and do not click on pop-ups, even if there are hot singles in your area
*This is a sponsored post, here's all the legal jargon from Fundrise we know you love reading
Tonight, the seventh Democratic presidential debate will take place in Iowa, which will hold its caucuses in just 20 days. The following chart from Bloomberg shows how the prediction markets have been handicapping the race. Can you match the color to the Democratic candidate? Your choices include: Elizabeth Warren, Pete Buttigieg, Michael Bloomberg, Andrew Yang, Amy Klobuchar, Bernie Sanders, and Joe Biden.
New year means new swag at the Brew.

Refer your friends to the newsletter to earn these brand new rewards.
Hit the button below to learn more and access your rewards hub.
Click to ShareOr copy & paste your referral link to others:
morningbrew.com/daily/r/?kid=dd3ff973
White = Warren, blue = Biden, yellow = Sanders, purple = Buttigieg, red = Bloomberg, orange = Yang, green = Klobuchar